Highly durable, light weight shipping cases and carrying cases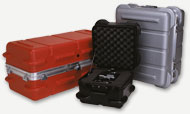 Our high-density plastic carrying cases and shipping cases offer an unequalled combination of toughness, attractive appearance, and light weight.

Cases that are the right size for your products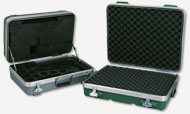 We have one of the World's largest libraries of standard tooling which means more custom carrying case size options than any other thermoformer!

Shipping and Carry Cases made with the options you desire
Bel-Air Carrying Cases are "made to order" so you'll always get exactly what you want.
Why settle for mass produced "off-the-shelf" cases when you can get the exact form, fit, and function your products deserve?
In addition, we can put a telescoping handle and wheels on almost every case we manufacture!

Impeccable Service and support
Bel-Air works one-on-one with our clients to design Carrying Cases and foam interiors that offer the desired combination of protection, functionality, appearance, and value.
By taking the time to understand your products and packaging requirements we're certain that you'll be satisfied by the protective cases you purchase!
[button url="/request-a-quote/" target="_self" size="medium" style="grey" ]Request A Quote[/button]
or call: 866-235-2472