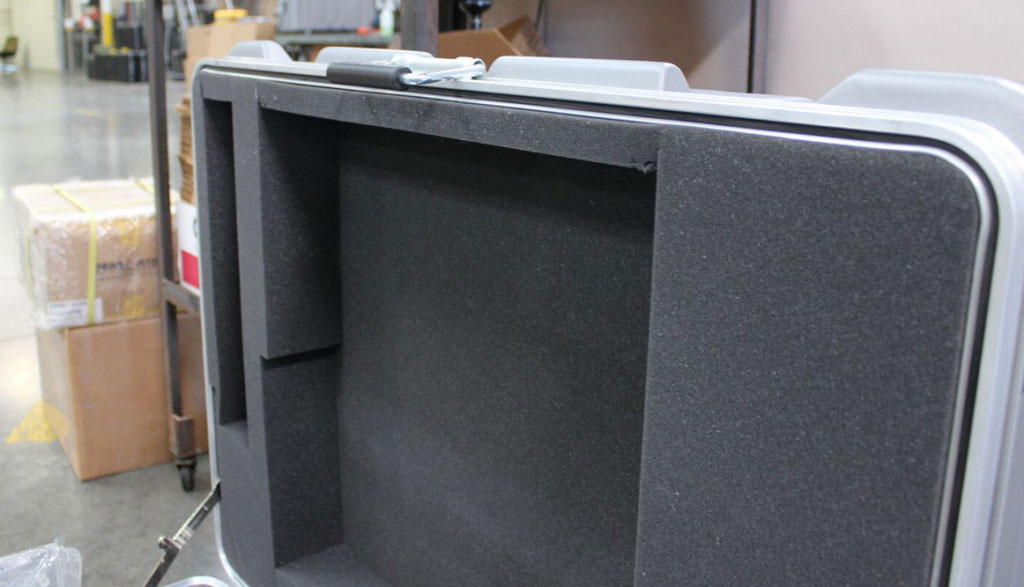 At Bel-Air Cases, we can design custom carrying cases and shipping cases for just about any type of equipment, and while the exterior of every Bel-Air Case is made-to-order, we also design high-quality custom foam interiors for every case. Here are just a few benefits of opting for cases with custom case foam.
1. High Level Of Protection
Equipment cases with foam are always your best option, but many cases manufacturers sell their cases with a hunk of cheap diced foam inside. Also known as cubed foam or pick-and-pluck foam, this solid foam is not custom-made for your items or equipment. Customers are forced to create their own cavities to fit their equipment. The result isn't a perfect fit, to say the least, and you end up throwing away much of the foam, which is a waste of money.
At Bel-Air Cases, we never hand off a case with this cheap, diced foam. We create custom foam inserts that are designed around the items you plan to store in your case. Each component in your case will have a custom pre-cut cavity that fits perfectly, providing you with the highest possible level of protection.
2. Durable & Shock Resistant
The exterior of our shipping cases and heavy-duty carrying cases are meant to handle being jostled about in cargo holds and delivery trucks with ease. We use high-density polyethylene for our cases, which is a highly durable and shock-resistant type of thermoform plastic.
While the exteriors are tough, the interior case foam also absorbs vibrations and provides a high level of shock resistance. With a durable exterior and a durable custom foam interior, you can rest assured that your expensive equipment will be able to handle trips by air, land or sea with ease.
3. Our Case Foam Has A Longer Life Span
A Bel-Air case is meant to last a lifetime. We've been building custom carrying cases and custom shipping cases for more than 50 years and many of those early cases are still being used today. While they might have a scratch or two, these cases have stood the test of time.
When it comes to our case foam, the high-quality foam we use also will last for many years, far longer than the cheap pick-and-pluck foam used by many case manufacturers. This cheap diced foam typically breaks down within just a few years forcing you to purchase new foam and create new cavities for your equipment.
4. Custom Case Foam Is Cost-Effective
It might surprise you to learn that our custom case foam is not a huge extra expense. In fact, we usually can create a completely custom hard case with foam for what you would expect to pay for a case with cheap diced foam.
Custom foam is far more protective and provides an extra layer of insurance against damage, which means you are much less likely to have to shell out a bunch of cash to fix or replace broken gear. Our foam (and our case exteriors) also is extremely lightweight, which can reduce your shipping and transport costs.
5. Custom Foam Adds A Professional Touch
From an aesthetic standpoint, opting for custom case foam adds a truly professional touch to your shipping cases or carrying cases. Diced foam looks cheap because it is cheap, and if you want your cases to speak to your level of professionalism, opting for custom foam inserts is always a good option.
Of course, we have many other custom features that can add a touch of class to your heavy-duty shipping cases and carry cases. For instance, we can create your cases with a molded-in logo or add custom engraved plates or decals to your cases.
We also can provide you with a bit of color, if you like. In addition to our standard case colors of black and grey, we also have several additional stock colors including white, green, olive, blue, yellow, orange and red. If you are ordering a fleet of cases, such as for sales kits or OEM cases, we may be able to provide you with custom colors or color matching.
Of course, we also can add many other helpful features to each case. This includes wheels, locks, latches and feet as well as different types of handles. A Bel-Air case with wheels and a telescoping handle isn't just attractive and protective, it's also easy to maneuver through tight spaces and crowded airports.
Bel-Air Cases: Quality Since 1967!
All of our shipping cases, carrying cases and trade show cases (as well as our case foam) are proudly made in the United States, and we can design just about any size case you might need. If you need ATA cases, we build each case to meet ATA guidelines and we also can design cases to meet many MIL specifications. If you need custom cases, just click on the Request a Quote tab on our homepage and fill out our quick contact form.