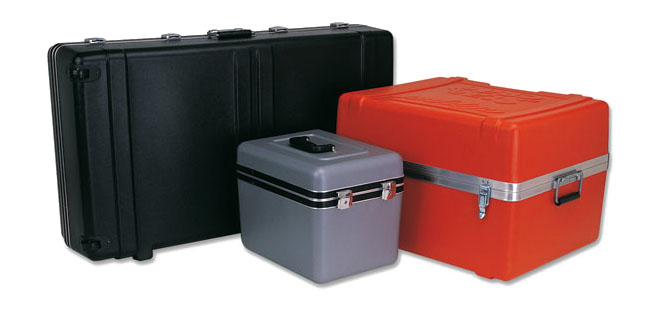 In a world where equipment damage can lead to significant financial loss and delays, it's crucial to have reliable protection for your valuable assets. That's where Bel-Air Cases arrives on the scene. We specialize in creating custom heavy duty cases designed to protect and transport your equipment securely. Here are five reasons to consider a Bel-Air case.
1. Superior Protection
Our heavy-duty cases provide an unparalleled level of protection against physical impact, dust, water, and other potentially damaging elements. With a hard exterior shell and custom foam interiors, our shipping cases and custom carrying cases offer dual protection. The exterior guards against outside forces, while the interior foam absorbs shocks and cushions your equipment, preventing damage during transit.
We vacuum-form each case shell using high-density polyethylene (HDPE), which is one of the most durable case materials. HDPE absorbs impacts and repels water as well as being resistant to many solvents. HDPE also can withstand temperatures ranging from -80 degrees F up to 180 degrees F and we can provide you with cases that include humidity control.
We also use the highest quality foam for your interior, and we provide you with a completely custom interior designed specifically around your equipment. Too often, in the case industry, we see manufacturers hand off cases with a chunk of diced foam inside. This cheap foam, also known as pick-and-pluck foam is not only low quality, but it also forces the customer to create cavities for their equipment, which hardly provides the best level of protection. For about the same price as you'd pay for a case filled with cheap diced foam, we can design you a custom case with a custom foam interior.
2. Customization to Meet Your Needs
Bel-Air Cases aren't one-size-fits-all. We believe in creating solutions tailored to meet your specific needs. We have no off-the-shell cases, and every case, from our heavy-duty shipping cases to our medium-duty and heavy-duty carrying cases is built to order and designed specifically to house and protect your equipment.
As stated above, our team of experts also will design a case with a custom foam interior that perfectly fits your equipment, providing snug protection and preventing movement within the case during transit. But the exterior shell and interior foam aren't the only components we can customize.
Need shipping cases with wheels? No problem. We can add wheels and a telescoping handle to just about any case, making it easy to transport your cases in tight spaces. We also can add a variety of latches and locks to any case, including TSA-approved locking systems.
When it comes to appearance, we can customize the color of all of our custom equipment cases, including our custom carrying cases, custom shipping cases and trade show shipping cases. Our standard colors are black and silver, but we have several stock colors including white, yellow, orange, red, green, olive and blue. We also can add molded-in logos, custom decals or engraved plates to your heavy-duty cases.
3. Compliance With Industry Standards
When shipping valuable equipment, particularly for military, aerospace, or entertainment industries, compliance with standards such as the ATA (Air Transport Association) and MIL (Military) specifications is crucial. Our cases are built to meet ATA and most MIL specs, ensuring that your equipment is protected to industry standards. If you've been looking for a custom ATA case, we have just what you need.
For our military and aerospace clients, we can design rugged, protective cases that meet just about any specifications you might need. If you are interested in cases that meet MIL specs, just let us know and our design team will provide you with cases that meet all of our requirements.
4. Durability For The Long Haul
Bel-Air Cases are built to last. They are robust, reliable, and designed to withstand the rigors of shipping and frequent travel. This long-term durability makes our heavy-duty protective cases a cost-effective solution, safeguarding your investment for years to come. In fact, some of the cases we built in our early days, in the late 1960s, are still going strong.
A Bel-Air case is meant to last a lifetime, and we have no written warranty. This is because we've never needed one. We stand by our rugged cases throughout their lifetime. If a component on your case breaks, we will fix it. We know that the transit industry is rough on cases, so while we cannot guarantee that your cases will never be damaged, we can assure you that we will always repair the damages
5. Peace of Mind
Perhaps the most crucial benefit of using our heavy-duty cases is the peace of mind it brings. Knowing that your equipment is securely housed and protected allows you to focus on the tasks at hand, rather than worrying about potential damage or loss. Our cases provide you with an extra layer of insurance for your equipment.
Types of Cases We Make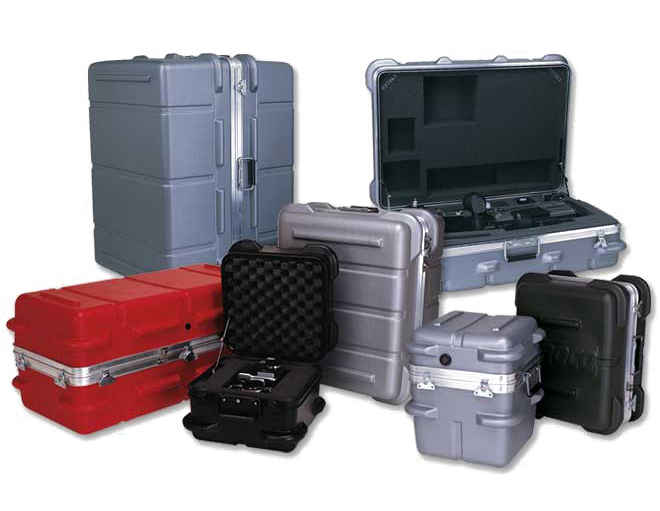 At Bel-Air, we've been making vacuum-formed custom cases for more than 50 years and we focus on three main types of cases – shipping cases, carrying cases and expo cases.  Our shipping cases can be used to hold just about anything from lighting equipment to diagnostic equipment to military equipment and much more. These cases are designed to withstand frequent trips as cargo, whether it's in a 747 or on a rocket to Mars.
If you need a smaller case that's still highly protective, our heavy-duty carrying cases are a good option. These can be shipped frequently as cargo or luggage, but they are a bit easier to maneuver in tight situations and, of course, we can add wheels and handles to make it easier to move your case from place to place.
If you want a professional carrying case that you don't anticipate needing to ship as cargo and only occasionally as luggage, our medium-duty case can be a great option. These are ideal for sales kits and demo cases, and they also can be used as OEM cases.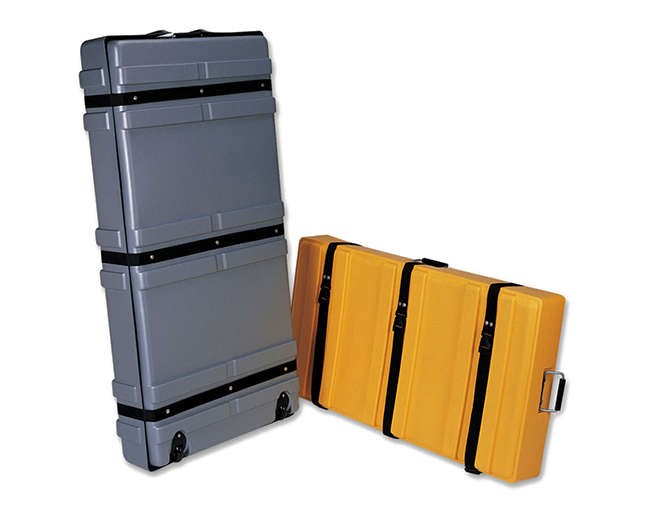 For companies that frequently attend trade shows, our expo cases are built to house graphics, displays, banners and other oddly-sized items. Our trade show shipping cases with wheels are easy to move around a convention center floor and, if you select shipping cases and expo cases in the same color with molded-in logos, this makes everything easy to identify and adds a professional touch to your company's booth.
Order Cases Today!
Investing in heavy duty cases from Bel-Air is a smart move that guarantees superior protection, customization, industry compliance, and long-lasting durability. You'll also enjoy the invaluable benefit of peace of mind, knowing your valuable equipment is in safe hands. For more information or to get started on designing your custom case (or cases), contact the team at Bel-Air Cases today.