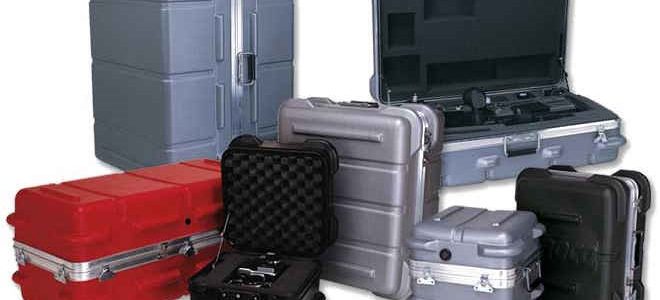 Do you wring your hands in fear every time you send your specialized equipment through air mail? How about when you check it on planes? If so, you're not overreacting. Airlines mishandle and break millions of checked packages and bags every year, and that's why ATA shipping cases can be so important.
Basic shipping cases don't lend as much protection as ATA shipping cases custom-built for the purpose. These shipping cases are designed and built to rigorous standards that were created by the airline industry to ensure that they can handle the jostling and bumping common during transport yet still protect whatever might be inside.
If you aren't certain whether to opt for a stock shipping case versus one of our custom shipping cases, let's take a look at some of the key advantages of opting for custom cases before sending your equipment on its next journey.
Avoid Airline Shipping Drama
If you've ever had damaged cargo, you know how hard it is to get any reimbursement from the airlines. With ATA custom shipping cases, the wasted time and drama of arguing with stubborn airlines and shippers are things of the past. You don't need to fret over whether you have the right shipping for medical equipment, scientific goods, or even musical instruments.
ATA stands for the Air Transport Association, which is now called Airlines for America and is the trade association for the United States' biggest airlines. They don't inspect ATA cases but set guidelines that companies making shipping for lighting equipment and other sensitive goods follow. Their standards protect airlines' equipment and yours as well.
There's No Wiggle Room in Custom ATA Shipping Cases
If you're reading this, chances are good that you're not sure of the best ways to ship expensive and fragile goods. Yet, non-custom shipping case companies make you do all the work. They want you to think you're an expert in shipping medical equipment and other specialty items!
You'd be right to feel they don't care about your equipment at all.
That might sound silly for companies that make their names selling protective plastic cases, but they show their feelings with the standard "pick and pluck" style of case lining. Unlike the custom foam linings in Bel-Air's ATA shipping cases, these aren't suited to shipping for lighting equipment, medical equipment and other valuable things. The company that's supposed to help protect your things hands off a case full of chopped-up foam to pick at until your equipment fits.
This is a particular issue with shipping for diagnostic equipment and other sensitive tools that have both large areas and small, sensitive parts like probes. Even doing your best, picking away at diced foam leaves uneven areas where the shipping process causes jostling. In many cases, that damages the encased items.
Custom shipping cases, on the other hand, have every nook and cranny custom-made with your specific equipment in mind. There's no wiggle room, making them perfect shipping for medical equipment, camera equipment, audio equipment and similar breakable things.
Add Special Compartments
Another downside of typical, cubed shipping case foam is that it doesn't have exact compartments for different items. If you want to keep an item with its accessories in a standard shipping case, you have an organizational nightmare.
All you can do is cross your fingers that all the items fit in one case. Trying to find space in the pick and pull foam for things like five items in a computer set often leads to one or two odd items out. A custom case lets you add compartments for those things and keep everything together for more convenient shipping.
Spend a Little, Save a Lot
Consider how much bad shipping for lighting equipment and other sensitive items can cost you. Large shipping cases could crush your items or knock them around, and poorly-fitting shipping material would lead to damage.
With that in mind, ATA shipping cases are an obvious investment with great value. Using them, you don't have to spend an endless amount as airlines and shippers damage your equipment year after year. Even in rough conditions, ATA cases tend to many years (or even decades) before needing replacement. Our shipping cases are built to meet or exceed ATA standards and designed to protect each piece of your equipment perfectly.
Don't Risk the Weather
High-quality ATA custom shipping cases are great for keeping the elements away. Most premade, standard cases offer no such guarantee. That's not a risk you want to take with shipping diagnostic equipment or other expensive items.
Even standard shipping cases that claim weather resistance aren't appropriate for special things. Shipping for medical equipment must have a custom fit or there could be issues with rain, snow, and even dust storms.
Equipment parts that are a little too wide or fit awkwardly strain the seams and closures of poorly-fitted cases. This could make room for water or dirt to make its way into the case. Custom shipping cases that fit ATA guidelines avoid this devastating problem and our heavy-duty shipping cases are up to the challenge.
Make Your Shipping Case Your Own
Even standard shipping cases with colorful options and prints only have so much variety. It's easy to mix them up during shipment, delivery, or pick-up because they look alike. You can mark yours, but labels wear and peel and tags fall off.
Instead, it's better to opt for professional custom shipping cases instead of trying to personalize basic cases. Choosing a unique combination of molded designs, engraved labels and custom colors will distinguish your shipping case from others.
Specially-designed custom shipping cases with personalized designs also look better than self-decorated ones. Chances are good that your items have a professional use and shipping for medical equipment or a band's instruments should have a dignified look. Investing in branded custom ATA shipping cases will bolster your or your organization's reputation.
We offer black and silver as our stock case colors, but we also offer several additional colors including white, yellow, orange, blue, red, green and olive. With a bulk case order, we may be able to provide you with custom colors or color matching. We also can add a molded-in logo to your cases or add custom decals or engraved plates.
We Have the Custom Shipping Cases You Need
ATA-quality equipment cases are ideal for transporting all your valuable equipment, and we build each case from scratch, to meet all of your specific case needs. At Bel-Air Cases, we've been designing custom shipping cases and carry cases for more than 50 years and can provide you with whatever you might need. Don't hesitate to get in touch online or call (866) 235-2472 to learn more about our ATA shipping cases to start an order.