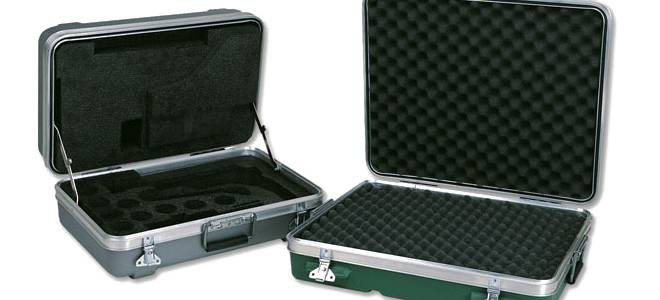 Whether you are a DJ or part of the crew for a band or perhaps on the road for video production, heavy-duty custom road cases are nearly as important as the equipment itself. As a professional, you put a significant amount of money into the tools of your trade, and it's also essential to put money into protecting them.
A custom road case is an integral piece of equipment for a musician or band, a recording studio, a DJ, or an AV professional. Whether you're storing, transporting or shipping your equipment, these cases ensure that your equipment gets protected from physical damage and moisture and dust.
At Bel-Air Cases, we can provide you with custom road cases that fit your needs and completely protect whatever you place inside. Here's a quick look at our made-to-order road cases.
Why Custom Cases?
Made-to-order road cases are custom designed to protect a specific piece or pieces of equipment safely and securely. With off-the-shelf cases, you won't enjoy the same level of protection as a custom case can provide. Our cases are built around your equipment, which provides you with the highest possible level of protection.
While custom cases come with a higher price tag than off-the-shelf cases, the quality workmanship and custom foam interiors act as a sort of insurance against the type of damage that typically occurs when you ship and transport expensive equipment.
Our heavy-duty shipping cases not only can withstand the punishment the transportation industry tends to inflict on shipping cases but they also are built to handle extreme conditions and environments. Our cases can withstand temperature extremes and high humidity with ease, protecting your equipment from heat-related or moisture-related damage.
Traditional Vs. Plastic Custom Road Cases
When you think of road cases, the typical fabricated wood or composite cases probably spring to mind. While these traditional road cases do offer a high level of customization, they do lack a few of the features you would enjoy with our heavy-duty shipping cases.
Bel-Air Cases Offer High Durability
You want a case that can withstand the rigors of the road, and our heavy-duty, custom road cases are built to handle the abuse of transportation. Our vacuum-formed cases are built using high-density polyethylene (HDPE) shells with durable aluminum valances.
Our cases meet ATA standards and even many military specifications, and if the armed forces trust our cases to protect their equipment, you can rest assured that your music and audio equipment will be well-protected.
How Strong Is High-Density Polyethylene Plastic?
High-density polyethylene (HDPE) is one of the most common and reliable plastics on the market today. This durable plastic is even used for many applications in the automotive and industrial markets.
HDPE can be used for carrying heavy loads, shipping, and storing. It's lightweight and durable, making it an ideal option for many shipping needs.
HDPE is resistant to corrosion and damage from chemicals. It's this reason that it is one of the most commonly used plastics in the marine industry. It's also why it gets used as a liner in concrete forms when constructing buildings, bridges, and other large structures. While you wouldn't anticipate your road cases coming into contact with chemicals, they can protect your equipment from water damage or just about any other liquid.
Our Custom Foam Interiors Add Extra Protection
While the exterior of our custom road cases can handle just about anything the transportation industry throws at it, we believe the custom foam interiors are just important.
We use high-quality, durable foam and each insert is custom-made to cushion and protect your equipment perfectly.  The padding helps absorb impact as well as limit vibration, which can damage some types of delicate equipment.
It is important to note that, unlike some case manufacturers, Bel-Air Cases will never hand off a custom road case with a chunk of diced or pick-and-pluck foam. This is a cheap type of foam common to the case industry and using this type of foam forces the customer to pick and cut away at the foam to create cavities for their equipment.
Not only does this provide inadequate protection, but this cheap foam also tends to break down quickly. Additionally, if you are paying for a custom case, we believe that this should include a custom foam interior and we can provide any type of foam interior you might need from simple foam liners to foam interiors with custom die cuts, interior walls, plastic dividers, interior doors, windows, panel mounts and shock mounts.
Lightweight = Lower Shipping Costs
These days, with astronomical gas prices, shipping costs are skyrocketing. Our HDPE cases are much lighter than traditional road cases and this can help to reduce your shipping costs. Lighter cases are easier to manage, as well, and we can add wheels and handles to your cases to further increase the ease of transport.
Many Custom Features
At Bel-Air Cases, we offer an unparalleled number of custom features. For instance, while our stock colors are black and silver, we offer several other optional stock colors including white, yellow, orange, red, olive, green and blue. With a specific minimum order, we also may be able to provide custom colors or color matching.
We can add custom engraved plates or custom decals to any case, and we can even design your cases with a molded-in logo, which adds a professional, personalized touch to any case.
Our custom features also include many different types of wheels, handles, latches and case feet, as well as case locks. If we don't have precisely what you are looking for among our stock items, we will do our best to find what you need and provide you with complete customization that meets all of your case needs.
Why Choose Bel-Air Cases?
Bel-Air Cases has been an industry leader for custom road cases, carry cases and shipping cases for more than 50 years. Our cases are custom-made to fit your exact requirements and can be used for a wide range of equipment, audio, lighting and video, and more.
We love working with musicians and bands, and our team includes professionals who understand the importance of protecting your equipment. Bel-Air's heavy-duty shipping cases are built to handle any kind of transport, which makes them ideal for use as custom road cases.
Order Your Custom Road Cases Today!
Our custom road cases can protect your gear for many years and even decades. If you are ready to get started on a custom case project, you can click on the Contact Us tab on our homepage and fill out our quick contact form or give us a call at (866) 235-2472.