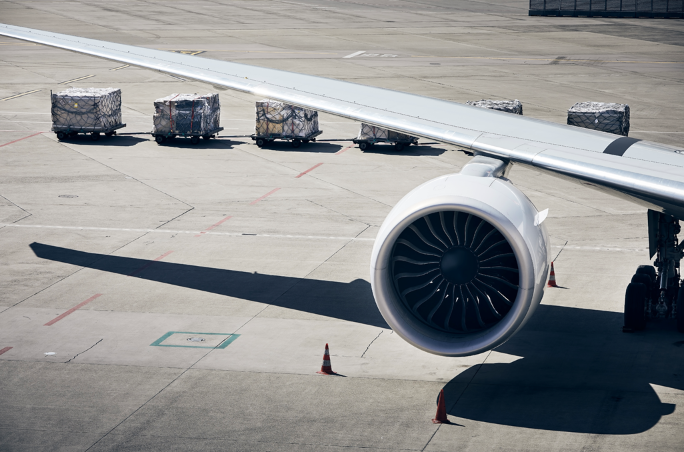 If you need to transport expensive or delicate equipment frequently, you need transport cases that are built to handle the rigors associated with frequent shipping by plane, train, bus or cargo ship. Bel-Air cases are built to handle the toughest conditions with ease, no matter what the transportation industry throws at them.
Why Bel-Air?
Bel-Air Cases was the first company to produce vacuum-formed hard plastic transport cases and carrying cases. We've had more than 50 years of experience creating custom plastic cases for a wide variety of industries, including the military and many aerospace clients, and our cases can be built to ATA specs as well as many MIL specs.
Our transit cases can handle being jostled around on a Lockheed WC-130J as it flies through the eye of a hurricane or withstand a trip to the International Space Station, and of course, they can handle the abuse heaped on them by civilian air carriers, as well.
Materials We Use
We vacuum-form the shells of our transit cases using high-density polyethylene (HDPE). Vacuum forming allows us to create cases in just about any size a customer might need, and we can customize the color and even add in elements such as molded-in logos.
HDPE also provides a high level of impact resistance and durability. HDPE also handles temperature extremes with ease, so whether your case is heading to the equator or the arctic circle, your equipment will remain safe inside your case.
The valances of each Bel-Air transit case are formed using durable aluminum. This material also offers solid impact resistance as well as being resistant to moisture. HDPE and aluminum also have the advantage of being light in weight, which makes it easier to move the cases from place to place, and this also can reduce shipping costs, which is always a plus given the high cost of fuel these days.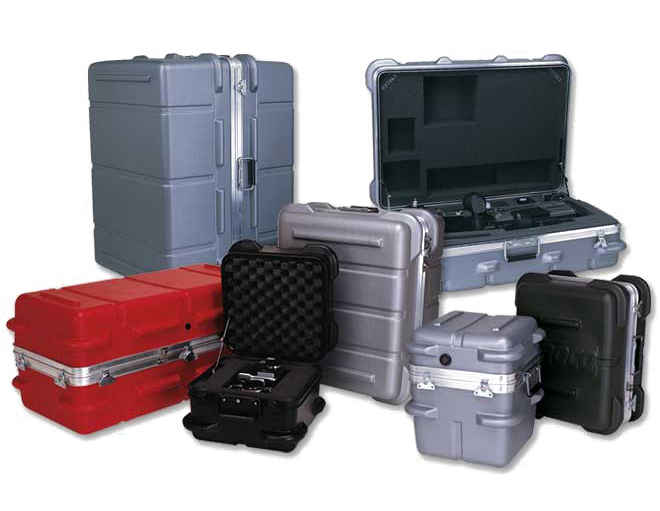 Our heavy-duty shipping cases are available in just about any size you might need. These cases feature molded bumpers and stacking lugs for convenience. We also have a variety of wheels and handles that can be added to your shipping cases, as well as latches and locks.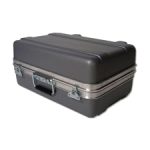 If you need the convenience of a carrying case, but also intend to ship the case frequently as cargo or luggage, our heavy-duty carrying cases are the perfect match. We build these cases using our carry case molds, but we simply use the same heavy-duty materials we use to build our shipping cases.
Our heavy-duty carrying cases are lightweight and easy to maneuver, and we can even add wheels and a telescoping handle to your case for complete ease of transport. Additionally, if you want a carrying case but don't plan to ship it often as luggage, we do have a medium-duty carrying option. These are lightweight, attractive and ideal to use for sales kits, demo kits or OEM cases.
Our trade show cases are designed to store the often oddly shaped materials that your sales team will need to bring along to a convention or trade show, such as graphic materials, displays, banners, charts, point-of-purchase displays and other objects that don't fit into regular style shipping cases.
These expo cases f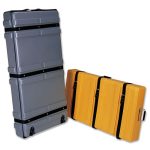 eature a unique design that includes an overlapping lid design. This design provides you with more flexibility with caseheights. The lid can telescope over the base, creating variable internal heights, and the lid rests on top of the base and is secured with nylon straps and buckles. Recessed wheel housings and strap protectors have been added to increase durability and to make it easier to move this case through a crowded airport or trade show floor.
Custom Foam Interiors
Unfortunately, some custom case manufacturers hand off their transport cases with a chunk of diced foam. This type of foam, also known as pick and pluck foam, is low-quality foam and it forces the customer to cut away at the foam to create cavities for their equipment.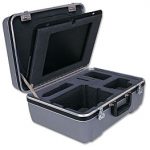 At Bel-Air Cases, we would never hand off a custom case with this cheap diced foam. We believe that if a customer is paying for a made-to-order case, this should include a custom foam interior. We are experts at fabricating foam interiors and can provide you with anything from a simple foam liner to an intricate design that features panel mounts, shock mounts, dividers and custom cavities that fit securely around your equipment.
Furthermore, we use high-quality foam that absorbs impacts and reduces vibrations, which helps protect your equipment during transport. Our high-quality custom foam interiors act as a second layer of protection for your equipment.
Custom Colors & Designs
Our transit cases are available in a wide variety of stock colors including black and silver, which are the most popular choices. Other stock color options include white, yellow, orange, blue, green and olive. With a minimum order, we may be able to provide you with custom color matching.
Clients often request that we add a molded-in logo to their transport cases, which adds a professional touch and makes it easier to identify your cases. We also can add engraved plates or custom decals to your cases.
Start Your Order Today
Whether you need just one transport case or many, the team at Bel-Air Cases is always here to help. To get started, just click on the Request a Custom Quote tab on our homepage or the Contact Us tab. Fill out our quick contact form, and a member of our sales will be in touch to get started with your order or answer any questions that you might have.