Case & Interior Options
Because our custom plastic cases are "Made To Order", we offer more options, features, and personalization than any other thermoformed case company. You can choose from a large variety of colors, hardware, and interiors.


or Call: (866) 235-2472
BEL-AIR CUSTOM PLASTIC CASE COLOR OPTIONS
Bel-Air Cases offers silver and black as our standard colors. However, if desired, we can form your cases in any of our optional stock colors. In addition, custom colors and color matching may be available (minimum purchases apply.)
---

---
BEL-AIR CASES GRAPHICS & LOGOS
Personalize your plastic case with a variety of graphics and logo options.
A custom molded-in logo adds a professional, personalized appearance to any case we manufacture.
We can also add engraved plates or custom decals.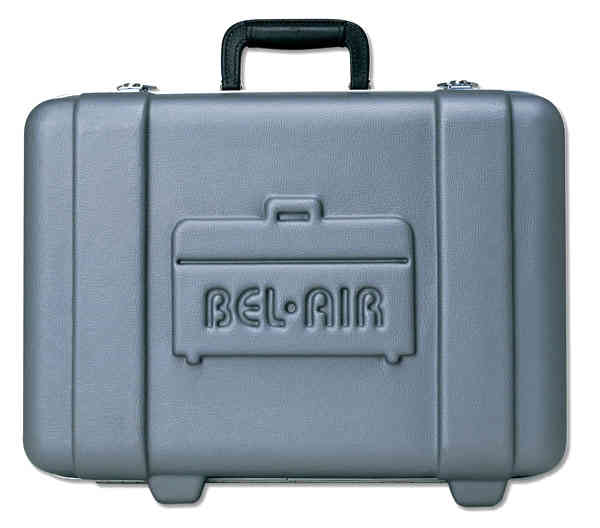 BEL-AIR CASES HARDWARE OPTIONS
Though each Bel-Air Case style and classification has its own standard hardware configuration, we offer a selection of additional hardware options. Whether your main concern is appearance, function, or cost, we have the component. Moreover, if we don't have it, we can probably get it. It's all about choice.
---
---
BEL-AIR CASES INTERIORS & FOAM INSERTS
Don't forget about the insides! At Bel-Air we offer a variety of interior options.
We can usually construct custom foam sets for around the same price you'd expect to pay for cases filled with foam slabs or diced foam.
In addition, we are experts at fabricating interior walls, plastic dividers, interior doors, windows, panel mounts, and shock mounts.
---
---
The materials and layout of your case interior can be more important than the case itself. Bel-Air Cases has the experience and expertise to design case interiors that best protect and present your products. A professional interior not only represents you and your products better than "loose slabs cut with a razor blade", but will offer superior protection and a longer life expectancy.
Don't settle for cases where you are required to make your own foam cavities out of foam slabs or "pick and pluck" foam. Is that really how you want to protect and present your products? Is it fair that you have to do the work yourself? Do you really want to purchase a case full of foam and throw most of it away? Let Bel-Air take care of your case interiors instead. You and your products will thank us.
---
WHY BEL-AIR? WE SET THE STANDARD FOR CASE MANUFACTURING.
Bel-Air Cases has been satisfying the needs of packaging professionals and clients for over 50 years. As the original innovator and producer of vacuum-formed plastic shipping cases and carrying cases, we continue to set the standard for case manufacturing.
Our "made to order" shipping cases and carrying cases are available in hundreds of sizes and almost limitless configurations. With Bel-Air, you don't need to settle for "off the shelf" cases, when we can provide a case with your ideal dimensions, components, foam interior, and appearance. We can even add a telescoping handle and built-in edge wheels to almost every case we manufacture.
---
---