About Bel-Air Expo Transport Cases
Copied by many, but duplicated by none, Bel-Air Expo Transport Cases are the industry choice for shipping and transporting graphics materials, trade show displays, banners, art, and other objects that don't fit into regular style cases.
Bel-Air EXPO Transport cases are designed to ship and transport wider, thinner items such as graphics, art, and trade show displays.
The overlapping lid design gives you more flexibility with case heights, and keeps your contents secure while reducing case weight.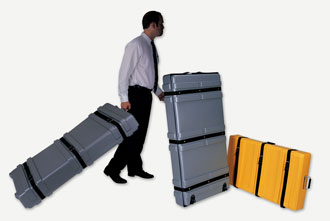 [button url="/request-a-quote/" target="_self" size="medium" style="grey" ]Request A Quote[/button]
or call: 866-235-2472
[hr_shadow]
Design
The overlap lid design allows the lid to telescope over the base, creating variable internal heights. The lid rests on top of the base (or the contents if thicker than 5″) and the whole bundle is secured with the nylon straps and buckles. Molded in recessed wheel housings and strap protectors add to the durability and functionality of this case.
Hardware
Bel-Air EXPO Transport Cases utilize:
– 3″ 'skate' type wheels with metal ball-bearings and metal housing
– Steel spring-loaded handles and nylon straps with solid plastic buckles
Usage
Bel-Air EXPO Transit cases are best used for wider, lightweight items such as graphics materials, framed pictures, tradeshow components, or paper airplane collections.
Why Bel-Air
Bel-Air vacuum-formed Shipping Cases offer industry leading value. Compared to other styles of shipping case, our durable and lightweight cases offer longer case life with lower shipping costs and lower cost of ownership.
[hr_shadow]
Features:
[check_list]
High-density polyethylene plastic for strength and impact resistance
Overlap lid design keeps contents secure at variable depths
Withstand temperatures from -80 degrees F to +180 degrees
Solvent resistant plastic will not blister or peel
Telescoping models range from 6 inches to 10 inches deep
Heavy-duty nylon-web belts with quick release fasteners
Recessed 3″ easy-roll wheels for easy handling
Heavy-duty spring loaded handles
High-tech eye-catching silver-gray modular look
[/check_list]

Benefits:
[check_list]
Designed and constructed for long term durability and reuse
Overlap lid keeps case contents secure while keeping the container weight to a minimum
Four available sizes with variable depths store and transport displays of almost any dimension
[/check_list]

Applications:
[circle_list]
Graphics and art
Trade Show components
Point-of-Purchase displays
Presentation visual aids
Sales and Marketing displays
Charts, maps, and posters
[/circle_list]

[hr_shadow]
Bel-Air Expo Transport Cases Standard Hardware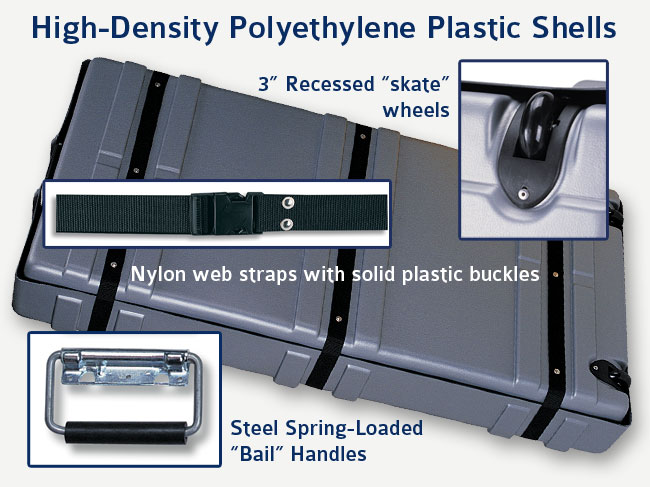 [hr_shadow]
Optional Hardware
[circle_list]
Internally Mounted Straps
Molded-in logos
[/circle_list]

[circle_list]
Label and card holders
Foam interiors of all styles and materials
[/circle_list]