Our protective, heavy-duty cases are built to handle frequent transport as luggage or freight and while this level of durability is crucial, that's only one of several reasons to consider purchasing a custom Bel-Air hard case with foam.
Weatherproof & Protective In Any Environment
Every Bel-Air hard case with foam is built to handle the jostling and bumping that accompanies travel by plane, train, ship or even crossing a desert in a Humvee. But our equipment cases also are built to handle rugged environments.
Whether your transport case is sitting on a tarmac in the middle of a monsoon or being hauled across a remote rainforest, the equipment inside your case will be protected from the elements.
Need ATA cases? Our cases meet ATA specs as well as many MIL specs and our clients include various branches of the military as well as aerospace companies. If you need to trek out to the tundra or are planning on a mission to Mars, a Bel-Air hard case with foam can be equal to the task. Just let us know what you need, and we will build a case that suits your specifications.
Light In Weight & Easy-To-Maneuver
A durable, protective case shouldn't be difficult to lug from place to place. The materials we use include hard plastic shells crafted from high-density polyethylene. While this material is durable, moisture-resistant and chemical-resistant, it's also extremely lightweight.
This makes it easier to move from place to place, but also can reduce your shipping costs. Keep in mind, we can add wheels and telescoping handles to many cases to further increase your maneuverability.
Custom Foam Adds Extra Protection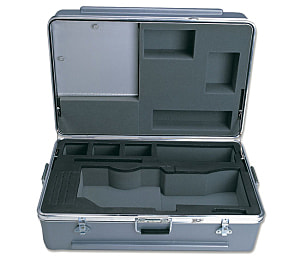 Every Bel-Air case includes a custom foam interior. This could be a simple, quality foam lining or a complicated design that includes die cuts, interior walls and doors, plastic dividers, windows, shock mounts and panel mounts.
Many case manufacturers simply provide their customers with basic foam slabs or diced foam. This cheap pick-and-pluck type of foam breaks down quickly, and the customer is forced to cut away at the foam to create cavities for their equipment.
If you are paying for a custom hard case, we believe a custom foam interior should be included. We usually can construct a completely custom foam interior for around the same price as cases that are just filled with cheap pick-and-pluck foam.
Many Custom Features
Our cases are built to last, but we also offer our customers many styli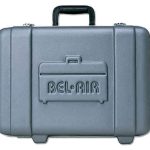 sh options. For instance, we can create cases with molded-in logos or perhaps engraved plates or custom decals.
Our standard case colors are black and silver, but we have several additional stock colors including white, orange, yellow, blue, red, green and olive. With a specific minimum order, we also can provide you with custom colors and perhaps color matching.
This can be a great option if you have to transport many cases at once. The custom color and logo can make your cases easy to identify. Additionally, if you need OEM cases, a custom color and molded-in logo or decal add a professional touch to your case design.
Additionally, we offer a wide assortment of hardware options including different types of case handles, case locks, hinges, latches and feet. If you don't see precisely what you want, we usually can find a source for what you want.
Choose Your Case Type
At Bel-Air, we create three different types of hard cases with foam. Our medium-duty and heavy-duty carrying cases are ideal for lightweight and fragile items weighing about 30 pounds or less, as well as for sales kits, medical kits and diagnostic equipment.
The medium-duty carry cases are not meant to be shipped as freight but may be shipped as luggage occasionally. If you want a carrying case that can be shipped frequently either as freight or luggage, our heavy-duty carrying cases will be a better fit.
Our heavy-duty shipping cases are the perfect option for just about any type of equipment that you need to transport frequently. These cases can handle hundreds of trips with ease, and they include built-in protective bumpers and stacking lugs. These features ensure that the toughest part of your case absorbs impacts and not either the case hardware or the items inside the shipping cases.
We also offer custom expo cases, which also are often just called trade show cases. These heavy-duty cases are ideal for shipping and storing graphic materials, trade show displays and other objects that don't fit into our regular-style shipping cases. These cases also feature a unique overlapping lid design which can reduce shipping costs by providing you with more case height flexibility.
Get Your Custom Case Quote
Whether you need just one hard case with foam or a fleet of cases, we can help. To get started, just click on the Contact Us tab and fill out our quick contact form or click on the Request a Quote form and provide us with a few details about what you need in terms of case design.