Padded Equipment Cases from Bel-Air
Padded equipment cases are a must-have item for any delicate or expensive equipment that needs frequent transport. At Bel-Air Cases, we've been designing custom plastic cases with foam for more than 50 years, and we'd like to take a moment to talk about the importance of custom foam interiors and a few facts about our services.
The exterior of our padded equipment cases is built to handle impact. We fully understand the realities of the transportation industry. Whether you are shipping your cases or putting them on an airplane, they will be jostled around, dropped and bumped into other freight. Our cases are designed to take the punishment of transportation again and again.
While, we use durable impact-resistant materials to create each custom case, we also highly recommend that you opt for a custom foam interior as this provides with the highest level of protection possible. The exterior design of your case combined with custom foam, ensures that your padded equipment cases can handle being dropped, banged or jostled without damaging what's inside.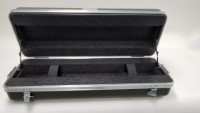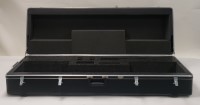 The team at Bel-Air can provide you with a simple foam liner or a highly customized foam interior with multiple cavities, interior walls, plastic dividers, panel mounts and more, protecting each piece of equipment perfectly. We can provide custom hand-cut or die-cut foam interiors, layers of foam slab or a foam liner to surround all of the inside walls of your padded equipment cases. What we will not do, however, is simply build your case and insert a large piece of diced foam inside the case.
Pick and Pluck Foam vs. Truly Custom Case Interiors
Diced foam, also known as pick and pluck foam, is something many case manufacturers will pass off on their clients, particularly for stock cases, but sometimes even custom case manufacturers simply will provide you with a slab of diced foam rather than creating a custom foam interior. Often, this diced foam costs about as much as custom design, but the quality isn't even close to what we would provide at Bel-Air Cases.
With pick and pluck foam, the customer has to pick away at the foam to create cavities for their equipment. Not only is this less than precise, this type of foam breaks down quickly and you'll need to purchase new slabs to ensure that your equipment is protected. Additionally, you'll end up throwing away a bunch of foam and you shouldn't have to pay for foam that you won't even use.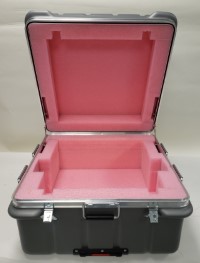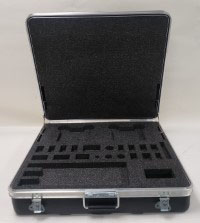 When it comes to luggage, cases and baggage, the airline industry transports hundreds of millions of items each year moving them along miles of conveyor belts, bumping across airports in trams and then loading them up into airplanes. While airlines are supposed to pay for damages to luggage and their contents, every airline has a policy that excludes many specific items and your equipment might be included.
You certainly can purchase travel insurance or shipping insurance to cover a loss, but our padded equipment cases are a kind of insurance all by themselves. Additionally, if your case is ever damaged, we can help! The transit industry is rough on packages, and while we can't guarantee that your cases will never be damaged, we can assure that we will always repair the damages for as long as you own the case. So, if you purchased a case from us back in 1972 and it needs a little repair or two, feel free to give us a call.
If you need new padded equipment cases, you can give us a call or click on the Request A Quote tab on our homepage. We can provide you with a free quote, and whether you need just one case of 1,000 cases, we will provide you with unparalleled customer service.