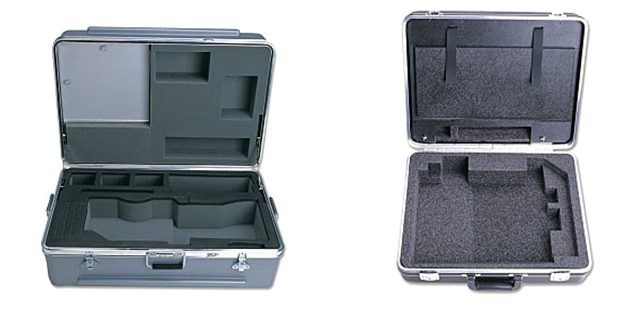 At Bel-Air Cases, our custom plastic carrying cases and shipping cases are built to be protective and durable, but we are well aware that if you truly want to protect what's inside a case, plastic cases with foam inserts are essential. Still, it's not just about adding foam, it's about adding the highest quality foam inserts, which is the only kind of foam we provide for our clients.
Custom Foam Vs. Pick & Pluck Foam
Too often in the case industry, a custom case maker hands off a case with a chunk of diced foam inside. This also is known as pick and pluck foam because the new owner of the case has to pick away and pluck away at the foam in order to create cavities for their equipment.
Not only does this look sloppy, but it's also not nearly as protective as a custom foam insert. Pick and pluck foam tends to be low-quality foam, as well, and will break down quickly, forcing the case owner to purchase new foam and pick and pluck and cut out new cavities.
We've been designing and producing carrying cases, shipping cases and expo cases for more than 50 years and not once have we ever handed off a case with a chunk of diced foam. Each of our plastic cases with foam includes a custom foam insert. It might be as simple as a quality foam liner, or we can provide you with a design that shields and cushions every piece of equipment that will go inside the case.
Foam is crucial because it protects delicate and expensive items from the typical jostling involved in transportation, and our durable foam also absorbs vibrations. Our custom foam inserts are designed to fit precisely around your equipment, providing the highest level of support and protection.
Which Type Of Case Do You Need?
We offer three different categories of custom plastic cases – carrying cases, shipping cases and expo cases.
Carrying Cases – We offer medium-duty and heavy-duty carrying cases and these are ideal for sales kits, diagnostic equipment, medical kits, smaller photography equipment and even as OEM cases.
Medium-duty cases are best used for items that only occasionally will be transported as luggage and for items that weigh between five and 40 pounds. Typically, a medium-duty carrying case will be transported by car or perhaps in the overhead bin of an airplane, but they aren't really meant to be used as freight cases.
If you need a carrying case that can be transported frequently as luggage or cargo, our heavy-duty cases are your best option. These cases can protect delicate items and heavy items that weigh 30 to 40 pounds.
Shipping Cases – If you need tough, durable cases that can handle the rigors of transportation and frequent shipping, our heavy-duty shipping cases are your best option. These cases can be built to accommodate most ATA and MIL specifications and are designed using the toughest materials and hardware we carry. In fact, our client list includes many aerospace companies as well as the U.S. military, so our plastic cases with foam truly can handle the toughest environments.
Expo Cases – These cases (also known as trade show cases) are built using the same tough materials as our shipping cases, but they come in unique sizes to carry items frequently transported to trade shows, such as posters, graphics, displays, banners and other objects that just don't fit into our regular style cases.
How We Make Plastic Cases With Foam
Bel-Air Cases was the first company to produce vacuum-formed hard plastic cases. Each of our equipment cases, carry cases and shipping cases are custom-made to order, and we do not offer any off-the-shelf cases.
To build each case, we use thick sheets of high-density polyethylene, which is a durable, impact-resistant and moisture-resistant thermoform plastic. We chose this material because of its durability as well as its ability to withstand temperature extremes and keep out moisture and water. It's also very lightweight, which can reduce your shipping costs.
Each sheet of plastic is heated to a malleable temperature and then vacuum-formed using a custom mold. Once each half of your case has been vacuum-formed, we use heavy-duty aluminum valances to hold the two halves together. We can then add a variety of standard and optional hardware components including hinges, latches, handles and wheels.
In addition to offering many options for custom handles, wheels, latches and other hardware, we also can customize the look of your cases. Our standard colors are silver and black, but we have several optional stock colors, including white, yellow, orange, red, olive, green and blue. With a minimum purchase, we may be able to provide you with custom colors or color matching.
Many of our customers also like to personalize their cases with graphics and logos. We can add a molded-in logo to each of your plastic cases with foam or add engraved plates or custom decals. These can be a great option for OEM cases and sales kits, providing you with a truly professional look, but they also can make it easy to gather up your cases at a busy airport, trade show or other events.
Our Foam Options
While we offer tons of custom options for your case exterior, we are experts at fabricating foam interiors. We can create custom die-cut cavities, fabricate interior walls, add plastic dividers, interior doors, windows, panel mounts and shock mounts depending on your needs and the type of equipment or items you intend to place inside.
Custom foam is the best option for just about any carrying case or shipping case, and we usually can construct custom foam sets for around the same price as you'd expect to pay for cases filled with diced foam or cheap foam slabs.
If you need custom plastic cases with foam inserts, the team at Bel-Air Cases is ready to help. We can provide you with carrying cases, expo cases and durable shipping cases. To get started with a case project, just click on the Contact tab on our homepage and fill out our quick contact form. You also can call us at (866) 235-2472 or email us at info@bel-air-cases.com.