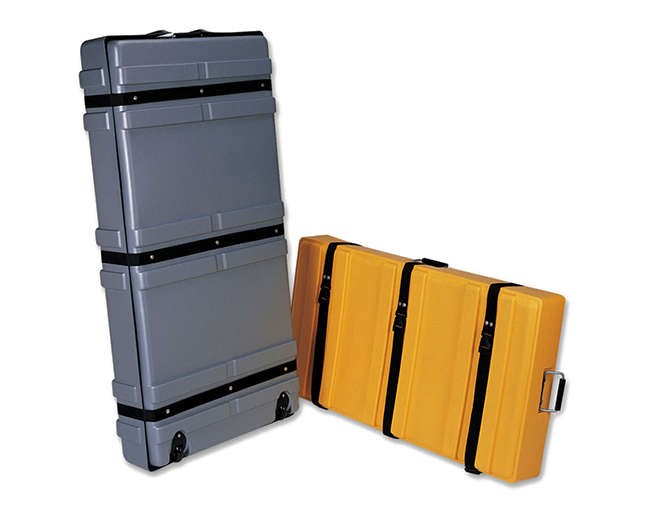 Trade shows provide companies with the perfect opportunity to entice new clients and launch new products or services. However, it can be difficult to fit many trade show display materials into traditional cases or boxes. Our custom trade show cases are the perfect solution, protecting and preserving your trade show items during transport as well as providing a safe storage option.
Why Bel-Air Cases?
At Bel-Air Cases, we've been producing custom shipping cases for more than 50 years, and we know a thing or two about how to build a durable case that can handle the rigors of transportation.
Tough & Durable Materials – Our trade show shipping cases are built using high-density polyethylene plastic, which is one of the most durable, impact-resistant materials available. This material also is solvent-resistant and water-resistant, as well.
While it's unlikely that you'll be attending a trade show near the Arctic Circle or in the middle of the Mojave Desert, our heavy-duty cases can handle temperature extremes from -80 degrees F up to 180 degrees F.
Another benefit of polyethylene is that this material is extremely lightweight. Not only does this make it easy to move and maneuver your cases, but it also can reduce shipping costs. Of course, we also add recessed "skate" wheels and steel, spring-loaded handles to each case which makes it as easy as possible to move these expo cases across a crowded convention center floor or through a busy airport.
Innovative Designs – Trade show items, such as displays and exhibits, are unique, often oversized and in unusual configurations. Our trade show cases with wheels are designed to hold these materials safely and securely, and we build these expo cases wider and longer than our shipping cases to fit trade show items such as posters, point-of-purchase displays, sales and marketing displays, charts, graphs and booth components.
Our trade show shipping cases with wheels feature an overlap lid design that telescopes over the base, and this creates variable internal heights. The lid rests on the top of the base and the bundle is secured with sturdy nylon straps and buckles.
Custom Features – At Bel-Air Cases, we offer many custom case options that can allow you to personalize your trade show cases and shipping cases. Our standard colors include silver and black, but we have several additional stock colors including white, yellow, orange, red, green, olive and blue.
Purchasing cases in an eye-catching color can add an extra touch of professionalism to your cases and make it easier to identify pieces at a busy trade show or convention. We also can add molded-in logos or add custom decals or engraved plates to each case.
Additionally, we can add a simple foam lining to your trade show cases or a custom foam insert to protect fragile or delicate components and equipment. We never hand off a custom trade show case, carry case or shipping case with cheap pick-and-pluck foam padding. Instead, our high-quality foam is designed specifically for your case and what's inside it, adding an extra level of protection.
Fun Trade Show Facts
Did you know that trade shows have been around for more than 150 years? The first official trade show was held in the 1850s in England. The Great Exhibition, as it was called, was sponsored by Queen Victoria and included the most exciting new technology of the day, not unlike the popular annual Consumer Electronics Show (CES), which takes place every year in Las Vegas.
There are trade shows and conventions for just about anything you can imagine. For instance, if you own a pizzeria, the International Pizza Expo takes place every year in Las Vegas and includes competitions, seminars and hundreds of exhibitors showing off everything from pizza ovens to takeaway boxes to uniforms.
While a trade show for the pizza industry seems logical, there are plenty of smaller, unusual conventions that might appeal to a slightly smaller audience than the pizza crowd. The Association of Lincoln Presenters, for example, hosts an annual conference where Abraham Lincoln impersonators (and Mary Todd Lincoln impersonators) gather to reenact speeches from the former president as well as listing to a variety of period historians.
5 Tips For A Great Trade Show
Set Goals – Before you attend the show, sit down with your team and determine the goals you wish to achieve. Are you going to generate leads? Launch a new product? Build brand awareness? Creating a goal helps everyone stay focused and makes it easier to measure success.
Pick The Best Show – There are hundreds of trade shows and your company might be a good fit for several. Research each show and determine which options are the best fit for your industry and target customer.
Create An Amazing Booth – An eye-catching booth with attractive signage and interactive displays can draw people to your booth. Once potential clients arrive, be sure that the team members are knowledgeable and able to answer any questions.
Start Planning Early – As soon as you know you are going to a specific show, get started with all of the planning and logistics. This includes printing all marketing materials, booking flights and accommodations, scheduling meetings with potential clients and more.
Follow-Up & Assess – Once the show has ended, be sure to have your sales team follow up on any leads. You also should sit down with your team to discuss what went well with the show and what could be adjusted to ensure even greater success at the next trade show.
Order Trade Show Cases Today!
If you need durable, attractive custom trade show shipping cases, contact the team at Bel-Air Cases at any time. You can click on the Contact Us tab at the top of our homepage and fill out our quick contact form or give us a call at (866) 235-2472. Whether you need just one or two trade show cases or many, we can provide you with a custom design that meets all of your case needs.