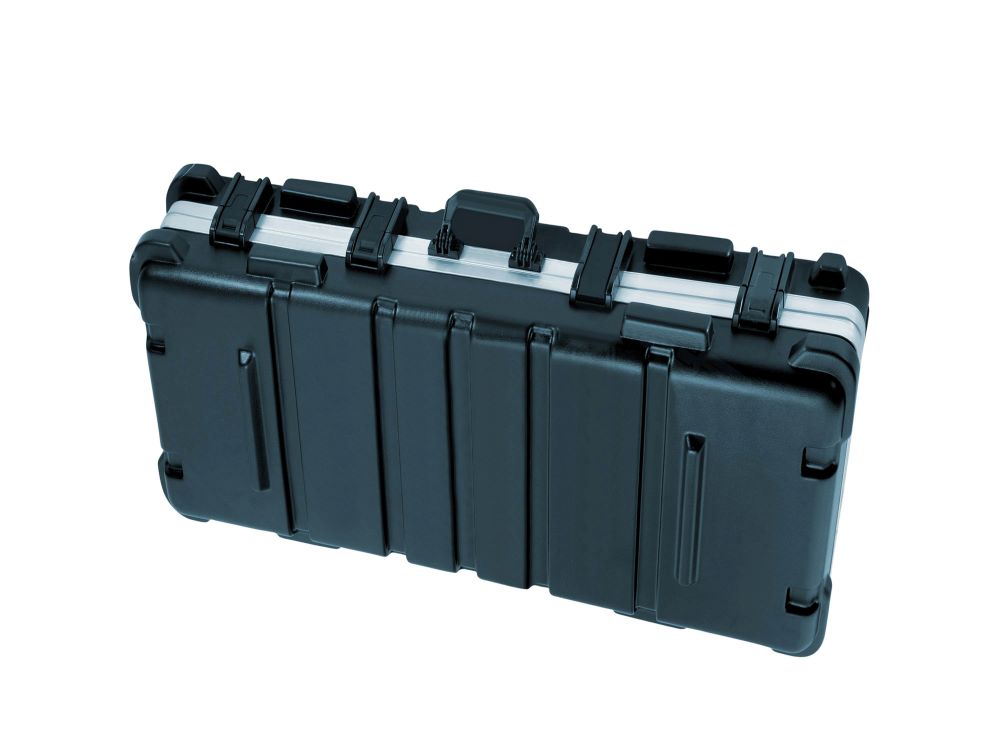 If you need to transport any type of delicate or expensive equipment, you need custom cases that can protect your items from the bustling and bumping the transportation industry inflicts on freight and luggage. At Bel-Air Cases, we design heavy-duty cases for equipment that can withstand hundreds of trips by air, land or sea (or spaceship).
How To Choose The Best Custom Case Option
There are many different kinds of cases for equipment, including vacuum-formed, roto-molded, injection molded, aluminum, laminated wood and blow-molded cases. At Bel-Air Cases, we focus on providing vacuum-formed hard plastic cases for our clients, and we believe these cases have some distinct advantages over other types of cases.
With vacuum forming, we can create nearly endless case sizes and can create special features such as molded-in bumpers and custom molded-in logos. We use high-density polyethylene (HDPE) for the case shells and this versatile, durable plastic not only can absorb impact but also is moisture-resistant and chemical-resistant and can withstand extreme temperatures.
Aside from versatility and strength, HDPE is extremely lightweight, which not only makes it easier to move a case through a crowded airport or train terminal but also reduces your overall shipping costs.
When choosing a custom case for equipment, there are several factors that we will discuss with you, including:
1. Size
We consider the size and dimensions of the equipment you need to protect, as this will help us select the best shipping case size for your needs. Keep in mind, with vacuum-forming, just about any size of custom case is possible.
2. Environments
We talk about the environments where the equipment will be used. Our cases can be used safely in conditions such as high-humidity or damp locations or in places where high or freezing temperatures are common. Dust resistance and pressure resistance also can be important factors when selecting a case.
3. Level Of Protection
At Bel-Air Cases, we can design heavy-duty shipping cases and carrying cases that meet ATA standards and most MIL specs, if needed. We've designed many cases for military clients and the aerospace industry, so if you need ATA cases or MIL cases, you've come to the right place.
Through the years, we've created custom shipping cases and carrying cases for a myriad of different types of equipment. Here are just a few examples:
Lighting Equipment
Camera Equipment
Audio-Visual Equipment
Music Equipment
Diagnostic Equipment
Military Gear & Equipment
Aerospace Equipment
Medical Equipment
Sales Kits & OEM Cases
4. Customization
At Bel-Air Cases, our custom carrying cases, shipping cases and trade show cases can be customized in a number of ways. Aside from the many size configurations available, we also can add custom hardware to your cases, including wheels, feet and handles, including creating cases with telescoping handles and wheels.
We also can a myriad of different latches and locks to any case, and we can create custom engraved plates, custom decals or molded-in logos for your custom case. In addition to our standard colors of black and silver, we also have several additional stock colors including white, orange, yellow, blue, green and olive. In some cases, we also might be able to provide color matching or custom colors.
Custom Foam Interiors
At Bel-Air Cases, we don't just design tough, durable case exteriors, we also design high-quality custom foam interiors for each case. Our custom foam will cushion every piece of equipment, protecting it from impact and vibrations.
Too often, when a person purchases a custom hard plastic case with foam inside, the case manufacturer simply hands it off to their client with a chunk of diced foam. This low-quality foam, also known as pick-and-pluck foam, forces the client to create cavities for their equipment, and if you are paying for custom equipment cases, we believe this should include a custom foam interior not just a hunk of cheap foam.
We are experts at crafting case interiors and while we certainly can provide you with just a simple, quality foam liner, we also can fabricate interior doors and windows, create custom die cuts for your equipment, add shock mounts and panel mounts and much more. Our padded equipment cases offer the ultimate level of protection for your equipment.
Contact Us Today!
If you need custom cases for equipment, the team at Bel-Air Cases is always here to help. To get started on your custom case project, just click on the Contact Us tab at the top of our homepage and fill out our quick contact form. A member of our sales team will be in touch as soon as possible to discuss your case needs.