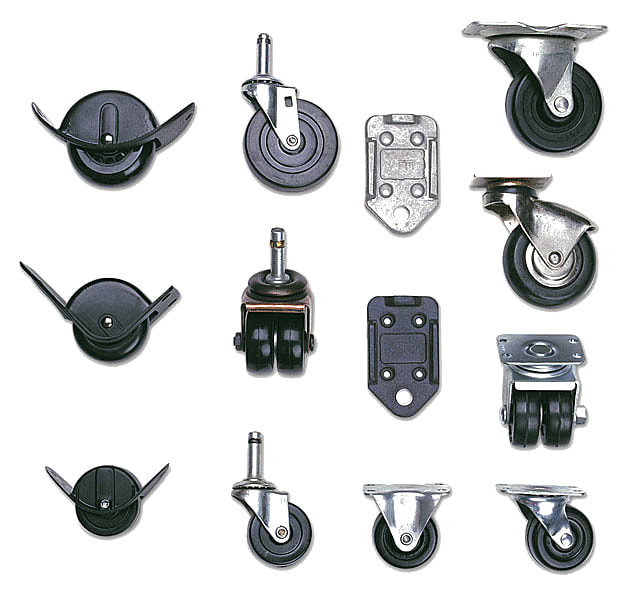 While a shipping case is meant to withstand the rigors of transport, too often these cases are bulky, heavy and difficult to handle. Our heavy-duty shipping cases with wheels are the perfect option – lightweight and easy to maneuver yet tough enough to handle hundreds of trips by land, sea and air.
As you can see from the picture above, we have a large selection of case wheels. Adding wheels can be a great option for just about any case, and we also have a large selection of handles. This includes telescoping handles, which make it easy to maneuver your Bel-Air case through a crowded airport or train station or any other high-traffic area. If you don't find the exact type or style of wheels or handles you want on our website, just let us know what you need, and we probably will be able to find a good source for your components.
Of course, we also offer many other custom options. If you would prefer a shipping case without wheels, we can provide you with different types of case feet. We also have a large selection of latches and locks and can design cases either with built-in rigid wheels or removable casters.
Naturally, we also offer an assortment of color options for your case. Our standard case colors are silver or black, but we have several additional stock colors including white, blue, green, olive, red and yellow. With a specific minimum order, we may be able to provide you with custom colors or color matching. We also can create a molded-in logo for your case or custom decals or engraved plates.
These color and customization options add a professional flair to any shipping cases with wheels and make it easier for your team to identify shipping cases at the airport, on a trade show floor or anywhere else you need to take them.
Top Protection – Even In Extreme Conditions
We also can add humidity indicators and pressure relief valves to your custom case. Our team has designed custom cases for military and aerospace applications for many years, and these clients often need what is known as a controlled breather case. These cases have tight seals to lock out dust, humidity and moisture, but we add a pressure relief valve to ensure that allows some air intake while still locking out moisture. The pressure relief valve also ensures that the user can open the case easily even when exposed to fluctuations in temperature or altitude.
Off-The-Shelf Vs. Custom Shipping Cases
If you need to transport equipment as luggage or freight frequently, you have several options to consider. You can purchase an off-the-shelf shipping case or a custom shipping case. Off-the-shelf shipping cases can be a good option if you just need one case or the items you are transporting aren't very expensive or delicate or if you need cases available right away.
Custom shipping cases with wheels are a better option if you need to transport anything particularly delicate or expensive (or both). Our shipping cases are built from scratch and designed around your equipment or products. While it takes a few weeks to build a Bel-Air Case, these cases are highly protective and meant to last for years and years. We have customers from the 1960s that still use their 50-year-old cases.
Of course, there are several different types of custom equipment cases. Our shipping cases with wheels are vacuum-formed from high-density polyethylene, which is a durable, lightweight, moisture-resistant and impact-resistant type of thermoform plastic.
Other options include roto-molded cases or injection-molded cases. These also use plastic shells, and while roto-molded cases are highly durable, they are very heavy and neither injection-molded or roto-molded cases are as customizable as our vacuum-formed shipping cases.
Fabricated cases, which are created out of laminated wood or composites, are available in just about any size or configuration you might need, but these also are quite heavy and tend to be more expensive than cases made from plastic. Still, if our vacuum-formed cases don't seem like the right fit for your equipment, we will let you know and help you find another source.
Custom Foam Interiors
While the exterior of your shipping cases needs to be durable, the foam inside the case can be just as important. Too often, a case manufacturer focuses only on the exterior shell and just hands off a case with a chunk of diced foam. Then the customer has to cut away at the foam to create cavities for their equipment. These imprecise cavities won't really protect your equipment and this type of foam tends to break down quickly and will need to be replaced.
We never hand off a case filled with cheap "pick and pluck foam," instead we fabricate high-quality custom foam interiors for each case, built around your equipment. Our foam cushions every centimeter of your equipment and provides additional impact resistance and protects against damage from vibrations, as well.
Our design team can fabricate any type of foam interior that you might need, and we are experts at creating complex die-cuts, interior walls, shock mounts, panel mounts, windows, plastic dividers or whatever else you might need.
How To Get Started
If you need shipping cases with wheels, you can simply click on the Request a Quote tab on our homepage. First, provide us with contact information and then you have the option of filling out our Simple RFQ Form or the Complete RFQ form. Once you've completed the form, just click submit and one of our case specialists will begin working on your free quote. If you have questions, just click on the Contact Us tab and fill out our quick contact form or call us at (866) 235-2472.