Custom Plastic Shipping Cases
Bel-Air Heavy-duty Shipping Cases offer an unparalleled combination of durability, light case weight, value, and customizability. We have a large library of sizes and limitless options such as telescoping handle and wheels, a variety of case colors, and molded-in logos. Since each case is "made to order", you don't have to settle for "off-the-shelf" cases that compromise the ideal dimensions and components for your valuable products. Lighter case weight and stronger durability result in overall lower shipping costs and cost of ownership.
or Call: (866) 235-2472
---
Bel-Air Heavy-duty Plastic Shipping Cases are designed and constructed to offer the ultimate in protection. Our shipping cases are rugged, light in weight, and offer tremendous value for your shipping needs.
---
USAGE
Bel-Air Shipping Cases are for products that are transported frequently as freight or luggage, and for items that may be heavy (over 40 pounds), delicate, and/or valuable. Items such as computers, commercial tooling, video equipment, and motorcycle engines.
DESIGN
Bel-Air heavy-duty plastic shipping cases are formed from special tooling that add molded protective corner bumpers and stacking lugs into each case. These features ensure that the toughest part of the containers absorb impacts, instead of the case hardware or your components.
HARDWARE
Our Shipping Cases utilize our standard heavy-duty hardware, and, most importantly, our heavy-duty valance. The aluminum valance, the "backbone" of the case, provides better impact resistance than cases without a valance or with a "flat" valance. Our unique hardware and mounting techniques virtually eliminate hardware damage and failure. For more about hardware, click here.
FEATURES
High-density polyethylene plastic for strength and impact resistance
Molded-in bumpers for unsurpassed product protection
Molded-in ribs and channels for stacking stability
2 1/8″ valance and heavy-duty hardware for high quality security
Able to meet stringent ATA 300 – Cat. 1 and MIL specifications
Withstand temperatures from -80 degrees F to +180 degrees
Solvent, moisture, and water-resistant
Hundreds of standard sizes available
Almost limitless custom options
BENEFITS
Designed and constructed for long term durability and reuse
Damage and corrosion resistance plus lightweight means reduced shipping costs
Bel-Air craftsmanship ensures that the case takes the beating, not your delicate equipment
APPLICATIONS
Broadcast and video equipment
Industrial and commercial tools
Computers and electronics
Surveying and seismographic devices
Industrial and commercial lighting
Diagnostic and testing equipment
STANDARD HARDWARE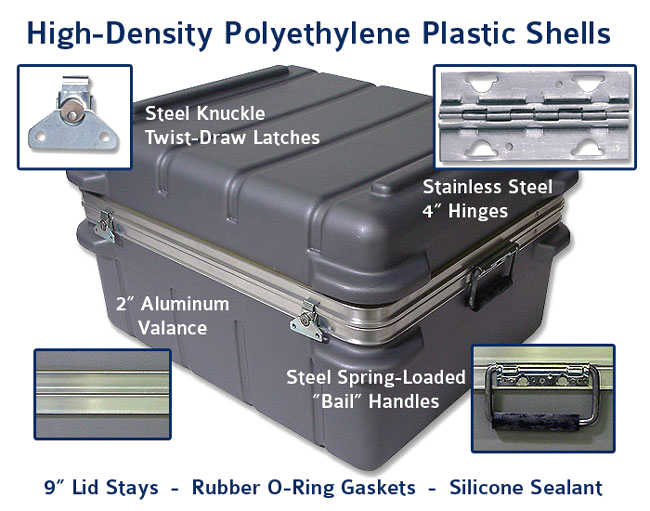 OPTIONAL HARDWARE
2″ Aluminum valance with 1/2″ flange for panel mount applications
Telescoping end handle
7″ spring-loaded end handle
Built-in edge wheels, for case toting
Removable casters, bottom or end mounted
Stainless steel or black hardware components
Stainless steel padlock hasp
Stainless steel latch protectors
Sealed case with automatic or manual pressure relief valve
Humidity indicators
Interior doors and dividers of plastic or aluminum
Molded-in logos
Label and card holders
Foam interiors of all styles and materials
… and many other customizations available
---
WE SET THE STANDARD FOR SHIPPING CASE MANUFACTURING.
Bel-Air Cases has been satisfying the needs of packaging professionals and clients for over 50 years. As the original innovator and producer of vacuum-formed plastic shipping cases, we continue to set the standard for case manufacturing.
Our "made to order" plastic shipping cases are available in hundreds of sizes and almost limitless configurations. With Bel-Air, you don't need to settle for "off the shelf" cases, when we can provide a case with your ideal dimensions, components, foam interior, and appearance. We can even add a telescoping handle and built-in edge wheels to almost every case we manufacture.
---
or Call: (866) 235-2472
---