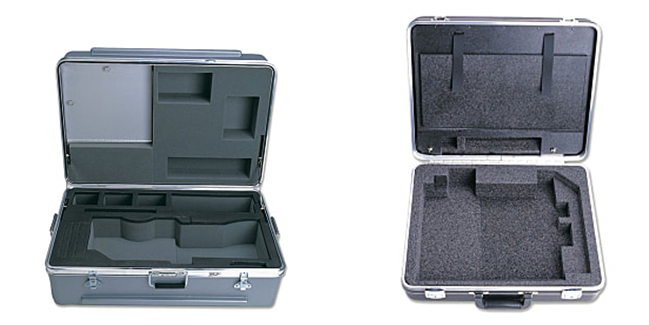 At Bel-Air Cases, we've been designing and producing custom cases for more than 50 years, and if you need a hard case with foam that can handle the rigors of transportation, we've got you covered. But, we also have some helpful information about shipping your cases, and which carriers might offer the best options for your needs.
First, A Look At Our Foam
While the exterior of a Bel-Air hard case with foam is built to handle shipping as cargo or freight, the foam interiors are just as important and as you came to this page looking for a "hard case with foam," let's talk about foam for a minute.
It's not uncommon within the case industry for manufacturers to hand off completed cases with a chunk of diced foam inside. This also is known as pick and pluck foam, and it's a cheap type of foam that is not built specifically for your case. In fact, the customer is responsible for cutting away at the foam with a razor blade in order to create cavities to hold their equipment. While this practice is common, we find it unacceptable.
We believe that if a customer is investing in a quality custom hard case with foam, that foam needs to be high-quality and customized to whatever will be going inside. We can design any type of foam interior you might need and are experts in fabricating interior walls, plastic dividers, interior doors, windows, panel mounts and shock mounts.
Our quality foam also will hold up for many years, unlike the diced foam that some manufacturers use. If you truly want a highly protective hard case with foam that can stand up to the punishment inflicted by the transportation industry, our plastic cases are equal to the task.
Your Shipping Options
Our heavy-duty carrying cases and heavy-duty shipping cases can be shipped without any additional packaging. Depending on the size of the case, you have many shipping options including UPS, FedEx, DHL and the United States Postal Service (USPS). If your case fits within an airline's luggage specifications, you also maybe be able to simply bring it with you are cargo during your flight.
USPS will not ship packages more than 130 inches in combined length and girth, and once your parcel is more than 108 inches, your case falls in the Very Large USPS Retail Ground and Parcel Select categories.
UPS has similar restrictions, as well as a weight limit of 150 pounds for regular parcels. If you are over that size or weight, you will need to opt for UPS' freight services and they offer a variety of freight services, both domestically and internationally. FedEx also places packages greater in weight than 150 pounds in the freight services category.
Keep in mind, our largest shipping case has a combined total measurement of less than 108 inches, so if the total weight is less than 150 pounds, you may be able to ship the case without opting for freight services. We can build larger cases if you need them, of course, but our largest standard model is 48×24 and up to 27 inches in total height. When it comes to our heavy-duty carrying cases, only our very largest sizes exceed 108 inches and are just over 40 pounds empty at their heaviest.
In many situations, it's smart to look beyond USPS, UPS or FedEx for your freight shipping needs. For instance, you could look into less-than-load freight shipping, also known as less-than-truckload shipping or just LTL shipping. Basically, with LTL shipping, you are taking up a portion of space on a truck and because other shippers also are paying for a portion of the space, the overall costs can be more affordable than with other types of freight shipping.
When it comes to expo cases, which we also produce, and cases shipped for trade shows, we recommend you look into special event shipping companies. These companies specialize in moving freight for companies involved in trade shows and other big events, and they often have better pricing than you would find through a more traditional type of freight company.
If you are shipping your case, we recommend having them built with locking mechanisms, and we have several options, including key locks and combination locks. Our best tip is to let us know how you intend to ship your hard case with foam so that we can build it out with that in mind.
Which Case Is Your Best Option?
If you plan on shipping your cases frequently, you have several options when it comes to case type, and each has its pros and cons. The most important factor is to ensure that the shipping cases you purchase are built to ATA standards.
ATA standards were created by the airline industry for suitcase and shipping case manufacturers and when cases are built to ATA standards, it means they are built to handle frequent transport, whether it's as cargo on an airplane, truck, train or ship. We can build you cases that meet most ATA and MIL specs. Our clients include the aerospace industry and the military, so we have many years of experience building cases that have to handle the toughest conditions.
We specialize in designing and producing custom vacuum-formed hard plastic cases. Our cases are built using high-density polyethylene, which is a durable type of plastic known for its impact resistance. This polyethylene also is moisture-resistant and resistant to many chemicals and can handle temperature extremes. Polyethylene also is very lightweight, which helps keep your shipping costs down.
Other options include roto-molded cases, injection-mold cases and fabricated wood cases. Each of these types of cases has its pros and cons. For instance, roto-molded cases and fabricated wood are very heavy, but roto-molded cases are quite durable and fabricated cases can be easily customized to whatever configuration you need. The team at Bel-Air Cases will let you know if our vacuum-formed cases are your best option or something else might be a better fit as we want all of our customers matched to the best possible case type for their needs.
With vacuum-forming, we can design cases in almost unlimited sizes and configurations. Through the years, we have collected a wide variety of case tooling, with more than 50 different configurations ready to go. However, if you need a unique size, we can build that for you, as well, although it might add a few extra weeks to your case project.
If you need a hard case with foam (or many), the team at Bel-Air Cases can help. We've been designing custom shipping cases and carrying cases since the 1960s for everything from lighting equipment to audio-visual equipment to military equipment. Our cases can be used for sales kits, medical kits, diagnostic equipment and even as OEM cases. Give us a call at any time and let's get started on your custom case project.