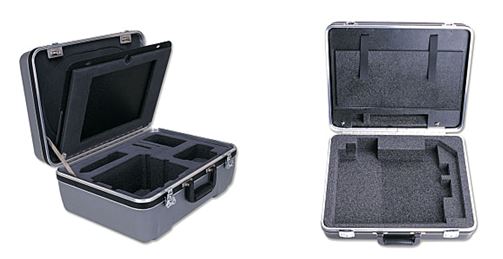 At Bel-Air Cases, we've been designing and producing custom carrying cases and custom shipping cases for more than 50 years, but when we talk about customization, we don't just mean the size and shape of the case, but also the foam interior. A Bel-Air plastic case with foam is built to precisely carry and protect all of your precious items.
Why Custom Foam?
Many custom case makers will design your case and hand it over to you with a chunk of diced foam inside. This also is known as pick and pluck foam, and it's a low-quality foam that we would never give to our customers. If you are paying for a custom-made plastic case with foam, we believe that the interior foam also needs to be completely customized.
With pick and pluck foam, you force the customer to snip away at the foam to create cavities to hold their items. These cavities won't be a perfect fit for the items, which means they aren't fully protected.
Here's an example of why pick and pluck foam just isn't good enough. The other day whilst hollowing out a loaf of bread to create a soup bowl, it became clear that this was a good example of why cheap foam is a bad idea. Although carefully cutting with a knife to hollow out the bread, the end result was uneven and imperfect, and while it was fine for holding soup, it would have been completely inadequate for something delicate or fragile.
Pick and pluck foam is just like that loaf of bread. It's not easy to cut or trim away to make a perfect cavity and this type of cheap foam breaks down very quickly. Additionally, you end up throwing away a good portion of the foam. Why should you pay for case foam that you aren't even going to use?
Aside from the poor quality and forcing your clients to do their own picking and plucking, we feel that simply passing off a case with a chunk of diced foam is lazy. If you are paying a premium for a custom case and ending up with pick and pluck foam, what does this say about the quality of the case? It requires zero effort to just hand you a chunk of foam, so we worry that this indolence might extend into the design and production of your case, as well.
Our Custom Foam Interiors
In some cases, our foam interiors are quite simple. If you aren't quite sure what type of items will be placed into your case, you might be fine with a custom foam liner. These liners will fit the interior of your case precisely and we use the highest quality foam. This foam will provide extra impact resistance during transport and help keep your items as safe as possible.
However, if you need a plastic case with foam and you know precisely what will be toted inside, we can create any type of custom foam interior you might need. We can hand-cut or die-cut cavities in any shape or side. We also are experts at fabricating interior walls, plastic dividers, interior doors, windows, panel mounts and shock mounts. As you can see from the pictures above, your foam interior can be simple or as complicated as you might need.
Through the years, we've designed equipment cases with foam for a wide variety of products. This includes equipment for the military and the aerospace industry, which obviously requires a high level of durability. We also create cases for lighting equipment, video equipment, camera equipment, medical equipment and many other delicate and expensive items.
Which Plastic Case Is Right For You?
At Bel-Air Cases, we produce cases in three categories – carrying cases, shipping cases and expo cases. All of our cases are built using tough, impact-resistant plastic shells with aluminum valances. The plastic we use (high-density polyethylene), and the aluminum valances keep the weight down without reducing the impact resistance of your case.
The plastic we use is not only durable and impact-resistant, but it also keeps out moisture and can handle extreme temperatures. You can trek through a hot rainforest in the middle of a downpour or traverse the tundra on a dog sled with your Bel-Air Case and the contents will remain safe from the elements. Whether you are attending a trade show in New York, shooting a movie on location in the Sahara Desert or planning a trip to Mars, our heavy-duty cases are equal to the task.
When it comes to carrying cases, we offer medium-duty and heavy-duty carrying cases. These carry cases often are used for sales kits and as OEM cases. The medium-duty carrying cases are very lightweight and designed for toting in the backseat or trunk of a car and can be transported occasionally as luggage although if you are shipping this case, we do recommend boxing it first.
If you need a lightweight carrying case that can be transported frequently as luggage or cargo, we recommend you opt for our heavy-duty carrying cases. These are ideal for delicate items or heavy items up to about 40 pounds. They are easy to tote and maneuver in crowded places, yet still provide a high level of protection.
If you need an ATA case or a shipping case that will be shipped often as cargo or luggage, our heavy-duty shipping cases are a perfect match. We build these tough cases with ATA standards in mind, and they can be shipped again and again with no harm to the items stored inside.
These cases are ideal for shipping heavier items (over 40 pounds), as well as delicate or valuable items such as computers, commercial tooling, video equipment, medical equipment and even items such as motorcycle engines.
Our expo cases are created with trade shows in mind. These cases are designed to hold odd-sized items, such as graphic materials, trade show displays, banners, art and other objects that don't fit into our regular style cases.
Of course, all three styles of Bel-Air Cases can include custom foam inserts. But we also offer many other custom features. You can add many different styles of wheels, handles, latches and locks and you can customize the look of your plastic case with foam.
Black and silver are our standard colors, but we have several additional stock colors including white, blue, olive, green, yellow, orange and red. With a specific minimum purchase, custom colors and color matching may be available. We also can add molded-in logos to your cases or add engraved plates or custom decals.
If you need a plastic case with foam (or several) and want to get started with a case project, just head to our homepage and click on the Request A Custom Quote tab and fill out our quick contact form. A sales representative will be in touch as soon as possible with a quote for your custom case project.