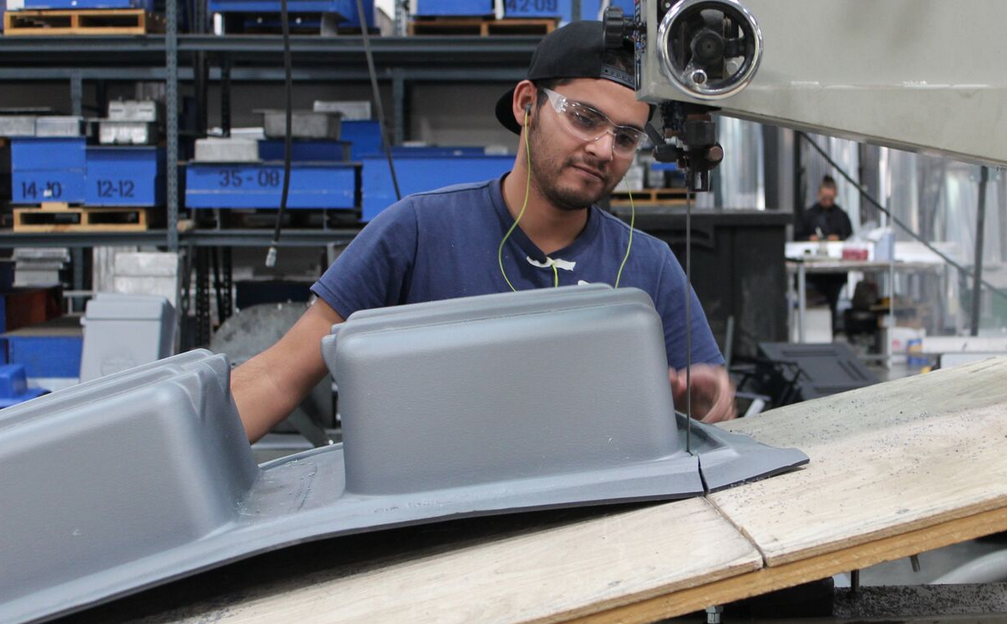 Bel-Air-Cases uses a process called thermoforming to produce high-end custom cases. Our expert staff will assist you with designing, customizing, and selecting options to build a truly custom "made-to-order" case.
We use vacuum forming and thermoforming which is the ideal solution for producing heavy duty carrying cases.
During the vacuum forming process, plastic sheets become heated until they are malleable enough to form around a mold. It is a simple process that produces resilient, lightweight, and seamless case shells quickly and efficiently.
Our vacuum formed case shells are produced individually components that leave the process as the intended product, or occasionally as a substantial part of the intended product; these parts are good substitutes for sheet metal or fiberglass materials due to enhanced durability and higher strength-to-weight ratios.
The vacuum forming process is one-sided; meaning the finished part's shape and detail are both on one side. Advantages of vacuum forming include less expensive tooling, fast turnaround and easier maintenance and modification as compared to an injection molding process.
We use thermoforming to form thermoplastic sheets into three-dimensional case shells. Thermoforming requires a relatively low level of forming pressure, so tooling can be constructed rapidly and less expensively compared to other molding processes. Fast cycle times, combined with automated sheet-feeding equipment, allows Bel-Air-Cases to provide rapid turnaround of our cases.
We utilize a combination of automated, manual, and digitally controlled equipment to fabricate parts composed of polyethylene, polycarbonate, high-impact styrene, and several other materials.
We focus on product quality and durability. Tight control of the materials and processes we use allow us to build the highest quality cases for your unique needs.
To learn more about our processes please give us a call at (866) 235-2472 or send an email to info@bel-air-cases.com.