Presenting your company at a trade show can be a critical first step to increasing visibility and credibility. Trade shows provide a powerful platform for acquiring new customers, reaching out to your existing clientele and showcasing new products. Putting a face to the company is essential for establishing your brand as reliable and trustworthy.
Your booth will tell your potential clients a lot about your company and your presentation needs to be professional. Your banners and poster, TV screens and other visual aids, sales and marketing displays and other trade show components require special care to ensure that your investment in these materials last a long time. Transporting these materials properly can be a daunting task without the right trade show cases to keep them safe. And just think, with the right equipment to hold and transport your materials, set up and tear down will become easier and more organized.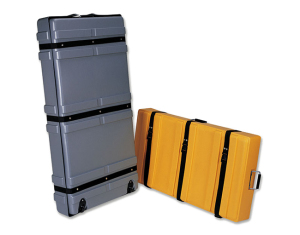 Bel-Air Expo Travel Cases are made of high density polyethylene plastic for strength and impact resistance that will not only survive the rough treatment they will get at the airport or in shipping facilities, they'll exceed your expectations at protecting your wares. Built with a sturdy spring-loaded steel handle and featuring durable nylon straps with tough plastic buckles and set atop built-in 3″ skate wheels with a metal housing, our trade show cases were built for convenience, ease of use and exceptional performance that will last many years to come.
With different sizes and shapes, you are sure to find the perfect case to fit your particular needs. From shallow and small to larger equipment options, our team has put together a line of trade show cases to fit all your transportation needs.
Not sure what you need? Call or email and we'll be happy to help!