Durable Mil-SPEC Cases
For decades, the United States military along with the leaders in military fulfillment and Aerospace industries have relied on Bel-Air Cases. Our durable and light in weight cases have shined during extensive testing and usage in the most important of situations. Bel-Air shipping and transport cases can be constructed to meet almost any military specifications. Bel-Air has the largest standard library of carrying case sizes and can offer infinite custom possibilities. We can add a telescoping handle and wheels to almost any carrying case we make. Require a panel mount or inner lid? It's not a problem for Bel-Air. Stand out from the crowd by protecting, transporting, and displaying your contents in a quality Bel-Air carrying case made to your specifications.


or Call: (866) 235-2472
MILITARY MEDIUM-DUTY CARRYING CASES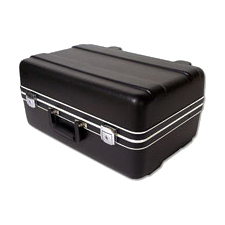 CARRYING CASE SHELL
Polyethylene plastic
Molded ribs
Molded feet (hinge side)
HARDWARE
1-7/8″ Medium-duty valance
Solid plastic handle
Locking chrome latches
Continuous "piano" hinge
BEST USED FOR
Items occasionally transported as luggage
Not recommended for UPS or Fed-Ex unless boxed
Sales kits and Demo kits
OEM Cases
Items weighing 5 to 40 lbs
MILITARY HEAVY-DUTY CARRYING CASES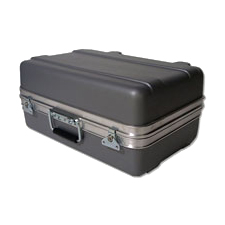 CARRYING CASE SHELL
Polyethylene plastic
Molded ribs
Molded feet (hinge side)
HARDWARE
2″ Heavy-duty valance
Steel spring-loaded handles
Steel twist-draw latches
4″ x 1-7/8″ steel hinges
BEST USED FOR
Items frequently shipped as cargo
Items frequently shipped as luggage
The required case size isn't available in a Shipping Case style
Heavy items (over 30 to 40 pounds)
Delicate items
---
CHOOSING THE RIGHT BEL-AIR MILITARY CASE
Choosing the Bel-Air case that best suits your needs may seem confusing, however our advisors are more than happy to help you choose the best case style and configuration for your products' characteristics and transportation requirements.
CALL 1-866-235-2472 FOR INSTANT DESIGN ASSISTANCE & QUOTING

If you're more of a 'do-it-yourself' type of shopper, we're happy to offer some advice. The most important thing to consider when choosing a case is to recognize who will be transporting it. The less you know your courier, and the less they know what's inside the case, the more heavy-duty your case should be. Frequency and type of transportation are also factors as is the total weight of the products inside. Finally, since there may be more than one acceptable case solution, packaging costs versus product replacement value should also be considered.
---
---