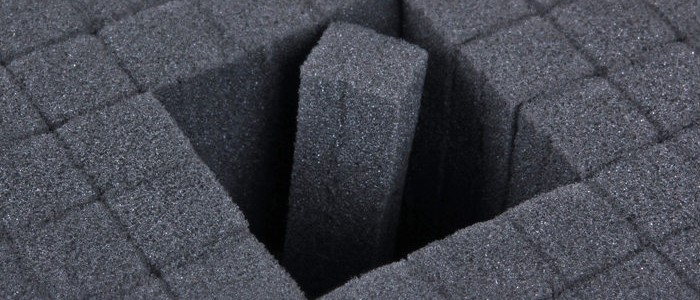 Many case manufacturers use what's call Pick and Pluck foam in their interiors because it easily creates snug, special shapes and and can conform to many sizes for cases and packaging. At Bel-Air Cases we advocate strongly against using Pick and Pluck foam.
There are two reasons we don't agree with using Pick and Pluck foam (sometimes called Diced foam too) in our case interiors.
The first reason is the quality of the foam itself. Pick and Pluck foam is die-cut foam that results in foam slabs with perforated cubes. The idea is that by being able to tear away (or pick and pluck) the foam cubes, you can easily create foam cavities for a case interior. It's actually not a bad idea. However, from previous customer experience it usually results in a terrible overall interior solution. Mainly because a customer will pay for a case completely full of die-cut foam but will end up removing up to 90% of the foam interior. Adding to this problem the remaining foam interior has a bunch of tiny holes or slices left in it. Eventually, with use, it starts coming apart. From customer experience you'll soon be replacing the case foam interior, if not the entire case itself. There is almost always a better solution than a diced foam interior for your packaging requirements. Bel-Air Cases works with our customers to find the best case interior solutions.
Last, but not least, the other main reason that we recommend against Pick-n-pluck foam is that as custom case manufacturers we associate this method as an easy and lazy foam case solution. Be cautious of any company that advises you to purchase a diced foam case, as manufacturing cases with diced foam requires very little effort, and that shows that they have very little concern for what you're storing or transporting in your case. Besides that it's just a bad and lazy design habit.