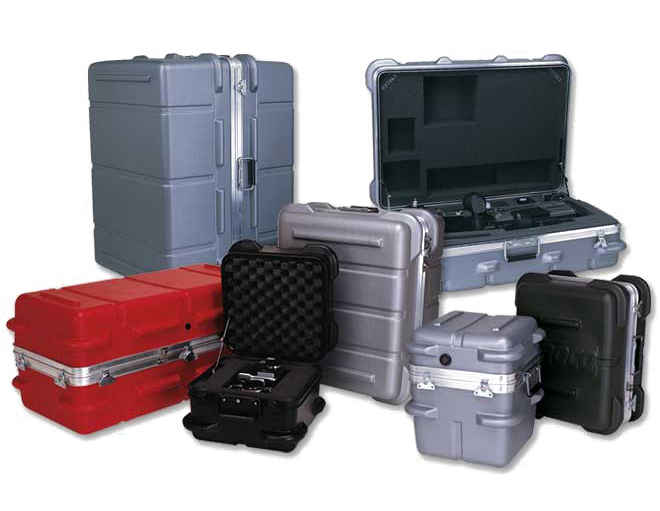 If you need to ship expensive or delicate items as luggage or cargo, you need cargo cases that can withstand the punishment inflicted by the transportation industry. Our Bel-Air custom shipping cases can protect your products whether they are transported by airplane, container ship, train, trucks, tanks or even in a rocket to the International Space Station.
There are plenty of case manufacturers out there, so why choose us over an off-the-shelf case company or another custom cargo case or shipping case manufacturer? There are several reasons why we believe Bel-Air Cases is the best option for many types of equipment.
5 Reasons To Choose Bel-Air Cargo Cases
We Have 50+ Years Of Experience
Bel-Air Cases is the original manufacturer of vacuum-formed plastic carrying cases and heavy-duty shipping cases. Since the 1960s, we've designed and built cases for just about any item imaginable, and our team has the experience and know-how to create a case that is perfect for your needs, no matter what those might be.
Our Heavy-Duty Cases Meet ATA Guidelines
ATA specifications were created by the airline industry to help consumers find cases that were built to withstand frequent air travel. The airline industry can be tough on cases, but our heavy-duty shipping cases can handle flight after flight with ease and continue to protect whatever you place inside your case.
ATA specifications require that an ATA case be able to handle at least 100 round-trip flights, and we think you will find that our ATA shipping cases can go well beyond this standard and our shipping cases also meet many MIL specifications.
Whether you need ATA cases or you need cases that meet military, government or aerospace specifications, we are likely to be able to provide you with cargo cases that meet all of your transportation needs.
If you need waterproof cargo cases, our cases fit the bill. You can drag our custom shipping cases through a Brazilian rainforest without worrying about damaging what's inside. Our cases also can handle temperature extremes, so whether you need a case that can handle the freezing temperatures of Antarctica or the heat of Death Valley, we have you covered.
Our Shipping Cases Are Made-To-Order, Yet Affordable
At Bel-Air Cases, we do not offer any off-the-shelf cases as every case is made to order. This means we don't have any cases already, completely build, in stock or ready to ship. Our goal is to build the best cargo cases for your requirements and not try to fit you into the closest size case we might already happen to have. This provides you with a much greater range of sizes and options, assembled just the way you want it.
While each case is made to order, our customers often are surprised at the overall affordability. We certainly don't sell cheap $50 cases, but you also won't find many $900 cases either. Typically, you can expect to pay about $400 each for five large shipping cases, which is actually a great value for made-to-order thermoformed cases.
Each Case Includes Custom Foam
While the exterior of our cargo cases is tough and durable, our shipping cases also include a custom foam insert. Unlike many companies in the case industry, we never hand off a case with a hunk of cheap pick and pluck foam, also known as diced foam. This is a low-quality type of foam, and not only is it not as protective as our custom foam, but the customer also is forced to create custom cavities for their equipment by snipping away at the foam with scissors or blades.
If a customer is paying for a hard case with foam, we firmly believe they should not have to deal with this cheap diced foam. Our custom foam interiors can be as simple as a high-quality foam liner, or we can fabricate interior walls, add dividers or interior doors, add panel mounts or shock mounts and much more. We design each foam insert specifically around the products placed inside, and the case foam adds another layer of protection to keep your delicate equipment safe from the bumps and jolts typical during transportation.
You Can Customize Everything!
In addition to customizing the size of your cargo cases and the interior foam, we have many other custom options. You can add different types of wheels and handles to your cases, including telescoping handles. You can choose from a wide selection of locks and latches, and if you don't see precisely what you want on our website, we can probably find what you are looking for and we are happy to search around until we find the perfect match.
Additionally, we can provide you with an assortment of case colors. Black and silver are our standard case colors, but we can create your cargo cases in several other stock colors, including white, yellow, orange, red, olive, green and blue. With a minimum order, we may be able to provide you with custom colors or color matching. We also can add molded-in logos, custom decals or engraved plates to your cases.
What Can You Ship In Our Cargo Cases?
While you can place just about anything inside a custom Bel-Air shipping case, here are just a few items for which our heavy-duty equipment cases are commonly used:
Aerospace Equipment
Audio-Visual Equipment
Cameras & Related Equipment
Commercial Tooling
Computer Equipment (and Electronics)
Diagnostic & Testing Equipment
Industrial Tooling
Lighting Equipment (Industrial & Commercial)
Medical Equipment
Military Equipment
Motorcycle Engines
Surveying & Seismographic Devices
Additionally, we also produce custom expo cases, which are ideal for trade show displays and graphics or any other item with an odd size or shape that won't fit easily into a standard shipping case.
We also produce medium-duty and heavy-duty carrying cases. These carry cases can be used to hold many types of equipment and also are used frequently as sales kits and OEM cases. Our medium-duty cases are not appropriate for items that will be frequently shipped as luggage or cargo, but our heavy-duty carrying cases can handle the rigors of transport with ease.
Contact Bel-Air Cases Today!
If you need rugged custom shipping cases or cargo cases, contact us at any time. If we don't think our cases are the perfect fit for your equipment, we will let you know, but we typically can match every customer to custom cases that meet their specifications and their budget. You can contact us by phone at (866) 235-2472 or via email at info@bel-air-cases.com.