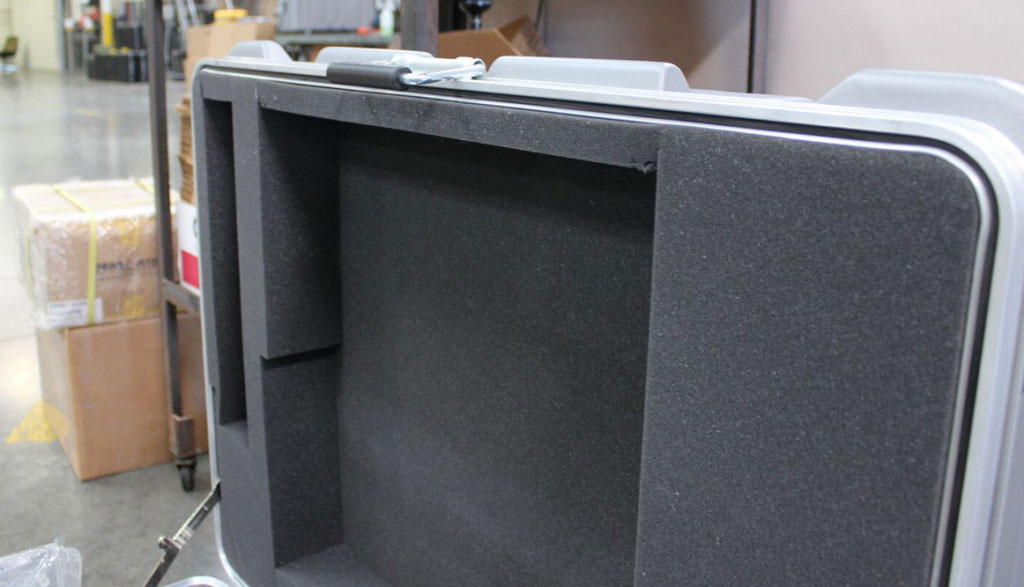 Why choose a Bel-Air equipment case with a custom foam interior?
When you're transporting expensive equipment, such as cameras and computers, you need the proper cushioning to protect their value and your investment. Because of this Bel-Air-Cases offers the option to construct custom foam sets for around the same price you'd expect to pay for cases filled with foam slabs or diced foam. We offer a variety of custom foam interior cases to choose from. We'll even work with you to create a custom equipment case with foam that fits your specific needs. Our expert staff that will take the time necessary to understand specific requirements and design a custom foam interior unique to your needs.
We use foam-cutting machines to handle complex cushioning requirements. We can design and manufacture the interior of the case using a CAD layout, or if our customers already have a specific layout we can adhere to those guidelines. Our in-house tools and equipment make it extremely easy to turn a basic cushioned case into custom designed carrying or shipping case capable of protecting your valuable equipment.
Since Bel-Air-Cases manufacturers made-to-order cases for nearly every industry, we're equipped with the latest technology to perform quality control and assurance, such as drop testing, to protect your valuables from unforeseen mishandlings and events. Our experts build and test a wide variety set-ups. You can be assured that our made-to-order equipment cases with foam interiors will provide the utmost in protection and durability for your equipment and valuables.
Looking for more information on our custom equipment cases with foam, or curious about our pricing? Feel free to give us a call at (866) 235-2472 for a personalized quote. You can also request a quote online: just fill out our Request a Quote form and one of our friendly customer service specialists will be in touch with you shortly.