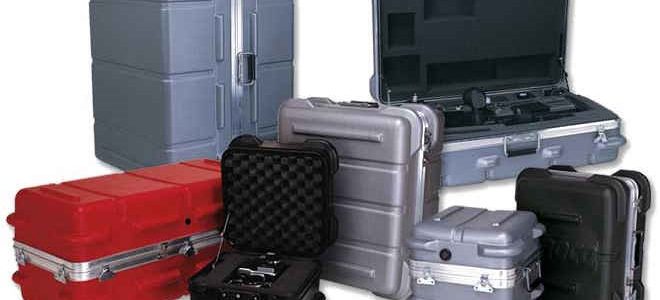 At Bel-Air Cases, we have 50 years of experience behind us and through the years, we've designed cases for just about every piece of equipment you could imagine. Our team has the experience and know-how to provide you with custom hard cases that can handle the rigors of transportation with ease.
What Goes In A Custom Bel-Air Case?
We can build a case to protect just about any piece of equipment, but here's a short list of some of the items we've built custom hard customs to hold.
Lighting Equipment
Camera Equipment
Audio-Visual Equipment
Medical & Diagnostic Equipment
Musical Instruments & Music Equipment
Computer Equipment
Aerospace & Military Equipment
Commercial Tooling
Motorcycle Engines
Sales Kits, Demo Kits & OEM Kits
We can build our cases to meet ATA specs and well as MIL specs. Just tell us what level of protection you need, and we will make it happen.
How We Build The Perfect Case: 5 Factors We Consider
Before we begin any new case design project, we study your product carefully and work with you to ensure that your custom hard cases meet all of your requirements.
The Type Of Case You Need
At Bel-Air, we design heavy-duty shipping cases, carrying cases and expo cases, the latter of which are ideal for oddly-shaped displays and materials needed for trade shows and similar events.
Our rugged, heavy-duty shipping cases are designed and constructed to offer the ultimate level of protection. Not only are these cases rugged, but the materials we use are light in weight, which makes them easy to transport and may help reduce your shipping costs.
We also offer two levels of carry cases – medium-duty and heavy-duty. Medium-duty cases are ideal for sales kits, demo kits and OEM cases or for items that need protection but will rarely be transported as luggage.
Our heavy-duty carrying cases are tough enough to be frequently shipped as cargo or luggage, and these are ideal for delicate items, heavier items (over 30 to 40 pounds) and when the required case size isn't available in our shipping case style.
The Case Configuration
All of our cases are made-to-order, and we have no off-the-shelf cases. We build each case around whatever you intend to put inside the case. Whether you need camera cases, lighting cases, sales kits or any type of equipment cases, we carefully study what will be placed inside to determine the ideal size to protect your items.
The Type of Custom Foam Inserts You Need
The exteriors of our cases are vacuumed-formed using rugged high-density polyethylene, and while the exteriors are built to handle the rough and tumble world of transportation, we also focus on creating custom foam inserts for each case, designed to cushion and protect your equipment.
Unlike too many plastic case manufacturers, we never hand off a padded equipment case with a hunk of diced foam. This cheap foam, also known and pick-and-pluck foam breaks down quickly and doesn't offer the highest level of protection and it forces the customer to cut away at the foam to create cavities to hold their equipment.
If you are paying for a custom hard plastic case with foam inside, we believe this price should include a quality foam insert, and we can build any type of foam liner you might need. And we usually can construct custom foam sets for around the same price you'd expect to pay for cases filled with cheap foam slabs or diced foam.
We can do a basic foam shell, of course, but we are experts at fabricating interior walls and creating precise die cuts. We also can add panel mounts, shock mounts, interior doors, windows and plastic dividers.
Additional Custom Features
When we say that each case is 100% custom, we mean it. We offer a myriad of custom hardware and accessories. Our standard hardware includes a 2" aluminum valance, stainless steel hinges and latches and a stainless-steel handle as well as a 9" heavy-duty lid stay.
We also have many option hardware options including stainless steel padlock hasp, stainless steel latch protectors, built-in key locks, pressure relief valves, humidity indicators, telescoping handles, built-in rigid wheels, removable casters and much more. If you don't see precisely what you want within our selection, we probably can source it for you. With Bel-Air, it's all about choice!
Decorative Features
While our cases are durable and rugged, able to handle jostling and temperature extremes with ease, we also love adding a bit of style to our cases. We can provide you with molded-in logos, custom decals or engraved plates to personalize your case.
While black and silver are our standard case colors, we can form your cases using our additional stock colors, which include white, yellow, orange, red, olive, green and blue. With a minimum purchase, we also may be able to provide custom colors or color matching.
Request A Free Quote Now!
Whether you need just one case or many custom hard cases, we are here to help. To get started with a custom case project, just click on the Request a Quote tab on our homepage and fill out our contact form. A Bel-Air representative will soon be in touch to provide you with a cost quote and answer any questions you may have.