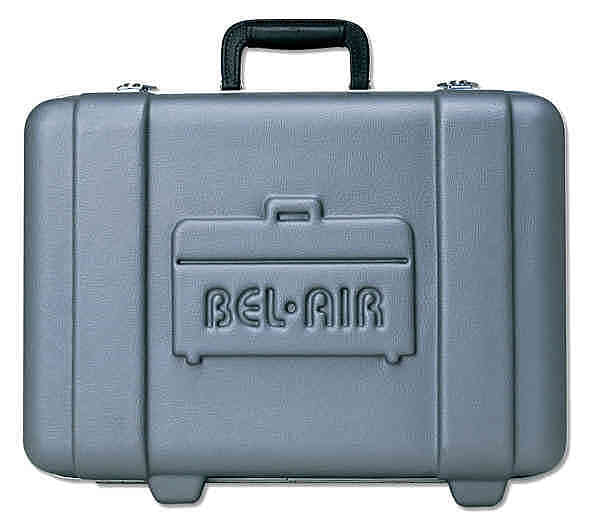 If you need to ship expensive equipment or gear, custom equipment cases with foam are usually the best option. Our custom cases provide you with peace of mind that your equipment will arrive safely at its destination whether it travels by plane, train, truck or ship.
At Bel-Air Cases, we've been designing heavy-duty equipment cases and carrying cases for more than 50 years and can create a case that meets all of your specifications. While a custom case can be more expensive than an off-the-shelf case, the extra cost can be well worth the price.
Custom Vs. Off-The-Shelf
For some items, a simple off-the-shelf case might be fine. If you need to ship or transport something relatively inexpensive, it might not make sense to spend extra money for a complete custom equipment case with a custom foam interior.
However, if you do often need to transport expensive and/or delicate gear, a custom shipping case with a custom foam interior ensures that your equipment is protected, even on the most harrowing of journeys. Our cases meet ATA specifications and can be built to meet MIL specs, as well. Whether you need ATA cases that can handle hundreds of flights, or you need a case that can handle military-level or aerospace-level extremes, we've got you covered.
Each of our shipping cases is made-to-order using high-density polyethylene (HDPE). This thermoform plastic material is one of the most durable case materials. Impact-resistant, moisture-resistant and resistant to many chemicals and solvents, our cases will protect your equipment from the rigors or transport as well as water damage or damage from humidity.
HDPE is highly protective, but it's also lightweight, which makes it easier to move around a crowded airport and cheaper to ship than cases built from other materials. We also use lightweight, but highly durable aluminum for our valances. The result is a case that can handle hundreds of trips by plane, train, bus, ship, rocket or whatever mode of transport you need to use.
The Custom Foam Interior
The Bel-Air custom foam interior acts as an extra layer of protection for your equipment. Off-the-shelf cases and, sadly, cases from many custom manufacturers, place a chunk of diced foam (pick-and-pluck foam) in the case and hand it off to customers.
With diced foam, the customer must cut away and pluck away at the foam to create cavities for their equipment. The result is ill-fitting and not nearly as protective as a cavity built precisely around your equipment.
We believe that every custom equipment case deserves a quality foam interior, and we build the interiors to fit each piece of your equipment perfectly. We also use high-quality foam that cushions your equipment and protects it from jostling and vibrations. We also can design a completely custom case with custom foam for about the same price as you'd pay for a case with cheap diced foam.
Once Upon A Case: Fictional Characters & Their Equipment Cases
Throughout the last 50 years, we've designed and built carrying cases and shipping cases for just about every type of equipment. This includes designing cases for military applications and aerospace clients as well as cases to hold music equipment, camera equipment, lighting equipment, diagnostic equipment and much more.
While we are serious about cases and can design a case for anyone in the real world, sometimes we dream up the type of cases we'd create for some of our favorite fictional characters, including:
Mr. Spock's Custom Phaser Case
There's nothing illogical about Mr. Spock's custom-designed carrying case. The simple black exterior boasts a molded-in Vulcan logo to make it easy for Spock to find his case among the cargo on Starship Enterprise. Inside, there are custom foam cavities to protect his phasers during journeys from one side of the universe to the other.
Harry Potter's Custom Equipment Case
One doesn't always want to carry one's wand from place to place, and Harry's custom cases can handle a ride in a flying car, a frenetic trip on the Knight Bus or in the cargo hold of the Hogwarts Express. We also created his equipment cases with wheels to make it easy to transport his gear throughout King's Cross Station.
While he opted for some of our smaller shipping case sizes, the interiors magically fit Harry's wand perfectly, with spots for his Marauder's Map, his Nimbus 2000 as well as a complete Quidditch set, a set of scales, an invisibility cloak, a time-turner and a Remembrall.  Of course, we designed the cases with a molded-in Gryffindor Logo in Gryffindor red with stylish gold handles.
Mary Poppins' Shipping Case
Sometimes a magical carpet bag is simply not enough, and you need a custom padded equipment case. For Ms. Poppins, we designed a simple black case (nothing showy, mind you) that cam hold a bottle of medicine, many spoonsful of sugar, a measuring tape, a large floor lamp, a hat stand, a potted plant, a looking glass and many other odds and ends. Mary's case holds everything safely and securely and, just like Mary, it's practically perfect in every way.
The Top-Secret Carrying Case
Of course, not all of these heavy-duty shipping cases and carrying cases need be magical, and an internationally known spy such as James Bond needs a case that can hold and protect an assortment of clever gadgets from Q's top-secret workshop. Bond's sleek silver case has 007 molded into the frame, to ensure that 006 and 008 don't accidentally grab his case on their next mission.
Naturally, we've added an impenetrable locking system on the case, which can only be accessed with a fingerprint and corneal scan. Inside, you'll find a special section for secret documents as well as custom foam cavities for a fountain pen that doubles as a pistol, a mini-rocket cigarette, a fingerprint scanner, a tiny spy camera, a watch that can deflect bullets and, naturally, a chilled cocktail glass and tiny bottles of Gordon's gin, vodka, and a bit of lemon peel.
The Millennium Falcon Cases
Long ago, in a galaxy far, far away, our team of designers created specialty smugglers shipping cases for a certain rogue pilot and his furry co-pilot. These cases could be used to hold blasters, kegs of illegal spices, the technical plans for a certain Death Star, lightsabers or whatever else would be needed to save the Rebellion and make a quick extra buck or two along the way. Because each case is lightweight, it also makes it easier for the Falcon to make the Kessel Run in less than 12 parsecs.
Order Your Bel-Air Equipment Cases Now!
While your equipment cases with foam might not need to carry a broomstick or a lightsaber, we know that your equipment is important to you. At Bel-Air Cases we will create a custom case with a quality custom foam interior that meets your specifications, even if they are MIL specs or you need a case that can handle a trip to Mars. To get started, just click on the Request A Quote tab on our homepage and let our team know more about your case project.